Hon. Rotimi Makinde Has never Given N1000 Before-Lizzy Anjorin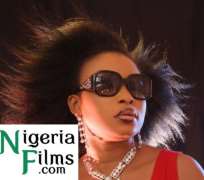 The rumour going round that former actor and producer, Hon. Rotimi Makinde is having a smooth sailing relationship with the beautiful actress, Lizzy Anjorin, may not be true after all as the actress has come out to debunk the rumour.
"Let me establish a point Honourable Rotimi Makinde has never given me a thousand naira. He knows me as a very serious girl whose future is bright. When I celebrated my mother, he honoured me by attending because he knew I was the only child of my mother.
He was not the only friend of mine who was there. Alhaja Salawa Abeni and Lanre Teriba were there and a lot of other notable faces and they all came because they wanted to honour a young lady who was an only child.
I remember I asked a guy who I saw at the party if we had met before and he said no, but he knew me and I should just continue with my good work. People just like saying what they don't know because the Rotimi Makinde they are talking about was here sometime ago to shop for his wife.
He bought things and he paid instantly. Rotimi Makinde is a very nice man who believes in people who have dreams."
You have heard it all, those who are insinuating an amorous affair going on between the two should read this first before making any pronouncement.
>

Rotimi MAkinde
Click the link below to go to...
PICTURES: Omotola, Genevieve, Ini Edo, Uche Jombo, Others Lighten Ibinabo's Birthday Party
'He Beat Me Till I Lost My First Pregnancy' – Nollywood Actor Ibrahim Chatta's Ex Reveals
Peter Okoye (Psquare) Risks Police Sanction In America
Jason Njoku Buys N8m Range Evogue For Actress Wife
Health Issues Hepatitis B ..The Cause And Solution
Stella Damasus' Anger Towards Fiberesima
Is Azadus Broke? Wears One Shirt For One Year
Dayo Amusa Drags Mike Ezuruonye, Desmond Elliot Into New Cinema Movie, The Unforgivable'