RE: Wanted: Airports that work; Misconceptions about Fani-Kayode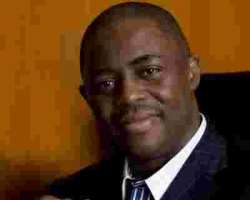 I sincerely give my nod and also stand to be identified with the editorial team of Next Newspaper for their unprecedented good reporting skills and investigative works which are seemingly in tandem with the rules of journalism practice, indeed good work should be commended and appreciated. However, I am very strongly disturbed to see Next newspaper mixing facts with falsehood in its January 4, 2010 editorial, while making efforts to express views and concerns about the evil intentions of Umar Farouk Abdul Mutallab and the poor state of Nigerian aviation sector, with the caption ''Wanted: Airports that work''.

The misleading part of the publication reads: ''The situation at Nigeria 's airports has always given cause for concern.. To give just two examples: the mass of outdated navigational equipment; and regular power outages that ground air-conditioning systems, baggage handling mechanism and security systems. How such a situation manages to persist is baffling, but one major clue emerges when one considers that two former Ministers of Aviation, Femi Fani-Kayode, and Babalola Borishade, are currently on trial for allegedly misappropriating billions of naira meant for the upgrade of airports across the country .''

For strengthening the records and to avoid distortion of facts in the public domain, Chief Femi Fani-Kayode is not standing trial for misappropriating billions of naira meant for the upgrade of airports across the country as erroneously published in the said editorial. According to available facts which are already made public, Chief Fani Kayode played his part meritoriously while serving his motherland as the Aviation Minister under the leadership of President Olusegun Obasanjo. This gentleman should be commended for his quick intervention in solving many delicate issues particularly when the nation was faced with the incessant air crashes which bedeviled the aviation sector between 2005 and 2006. President Olusegun Obasanjo redeployed Fani Kayode from the Ministry of Culture and Tourism to the Ministry of Aviation. The redeployment took place in November 2006. Before the redeployment, the country had experienced no less than five plane crashes in Nigeria with the attendant loss of approximately 400 lives within a period of one year. This was not only unprecedented in peace time but was also a national tragedy and disgrace and was widely acknowledged as being so. The plane crashes were, in no particular order, the Bellview crash, the Sosoliso crash, the military plane crash (in which some of our brightest and most distinguished generals were killed), the ADC crash and the crash of a small plane that took place in Kaduna . As if to add a rather sinister twist to the whole saga, virtually all these crashes took place on a weekend. This was a perplexing coincidence and was indeed by a curious and cruel twist of fate. It was clear and obvious to the discerning and spiritually sensitive that the demons of hell had been invoked and loosed into the Nigerian airspace in that one year.

Fani Kayode took on these dark forces and their agents and restores discipline, accountability, sensitivity, responsibility and a full compliance and no-nonsense approach to safety and security issues within the sector. For him, the protection of the lives and welfare of the Nigerian flying public was more important than anything else. To him it was his duty to protect these lives for the seven (7) months that he was at the Aviation Ministry. We thank God that in that primary assignment, by God's grace, he was successful and the cycle of plane crashes stopped throughout the period that he was Minister of Aviation. I am confidently sure if Fani Kayode was still the Aviation Minister Umar Farouk Abdul Mutallab would not have succeeded in boarding the aircraft with those deadly substances he had on him. Again if he still scales through the MD of Nigerian Civil Aviation Authority, Federal Airports Authority of Nigeria and other bodies responsible for security at the airport would have been suspended by now and questioned for their sheer failure and negligence, which is now rubbing off on the image and integrity of Nigeria; Nigeria-USA diplomatic and bilateral ties is now suffering precipitously by the second. Also to Fani Kayode's credit we can all recall that similar attempt was made by a middle-aged man who attempted to enter the aeroplane with some explosive materials, the man we all know was arrested, prosecuted and jailed accordingly, and all these details were paraded in an international press conference conducted by Chief Femi Fani Kayode whilst he was the Aviation Minister. As part of his unbiased disciplinary measures, some of his close pals were even affected when they could not comply with some basic aviation rules, like Al-Barka Airline (rtd.Gen Buba Marwa) Nicon Air (Jimoh Ibrahim) to mention a few. He equally played significant roles and efforts to ensuring the successful completion of the Bi-Courtney MM2 world class Airport, despite the incessant pressure that was coming from some Northern elements who never wanted the laudable project to see the light of the day.

Meanwhile some forces who are of Yar'Adua's interest ganged up, in an attempt to nail him (Fani Kayode), not for being a former Minister but for his closeness to the former President, Olusegun Obasanjo. They instigated the Senate Aviation Committee to probe the N19.5billion Intervention Fund of the Aviation sector but while the sitting lasted nothing was found to indict Fani-Kayode on the alleged misappropriation. However in June 2008, shortly after their testimonies before the Panel, Fani-Kayode, Prof Borishade and some others were arrested, detained, interrogated and arraigned before an Abuja Magistrate Court for a few days by the EFCC (Economic and Financial Crimes Commission) over the same N19.5 Billion intervention fund. After a thorough investigation revelation showed that it was all political vendetta to bring him down and all charges against Chief Femi Fani-Kayode were withdrawn from the court by the EFCC as it was clear that there was no evidence that he had anything to do with the misappropriation of the intervention fund. As a matter of fact it was established clearly that he was the one that actually exposed the scam. I was at the Senate Committee Public Hearing and it was discovered that 3 billion Naira meant for the payment of workers that were laid off in the Aviation ministry was not spent on the intended purpose but that had happened before Fani-Kayode became the Aviation Minister.

For the record, whilst Chief Fani -Kayode was the Aviation Minister, 11 billion Naira was in the Ministry's coffers being aviation intervention fund, and the money was judiciously spent by the Ministry under his esteem leadership. There was another N2 billion which was not part of the intervention fund but a soft loan from the Rivers State Government given directly to FAAN and specifically for the rehabilitation of the Runway of Port Harcourt airport. Out of this N2 billion, about N350million had been spent before Fani-Kayode came to the aviation ministry.. The records show that out of the 11billion Naira, Fani-Kayode only released approximately 3.8billion Naira and left a balance of 7.2billion Naira in the Aviation Intervention Fund account. And out of the balance of the Rivers State Government loan, he only released N1.5billion.

Three major projects were executed by him while he was in the Ministry. It is on record that Port Harcourt Airport Runway which was in bad shape for many years was awarded to Julius Berger for repair at the rate of 3 billion Naira, and he only released 1.5 billion Naira yet the project was completed and the runway was commissioned and open for use. Similarly 3 billion Naira was earmarked for the repair of the Lagos Airport Second Runway (18 LR), but in his usual prudent approach to handling public funds, 1.5 billion Naira was only given to the contractor, (PW) yet the project was 100 % completed despite the 50% upfront payment by the Ministry. Also a construction company by name Fiat was awarded the contract to fix the Cargo Wing of the Lagos Airport at the rate of 800million Naira, and 400 million Naira was accordingly released to the company and the company professionally made 50% execution of the project before Fani Kayode left the office. Very astonish, nobody he is asking question on the N7.2 billion he left behind. It is regrettable to know that to date none of these contractors have been reimbursed or paid for their outstanding balance, for the projects/contracts they executed for the Aviation Ministry..

There are avalanche documentary evidences like payment vouchers, cheques, authorization from the due process office in the execution of contracts, etc, all of which were provided at the Senate public hearing and at the Courts; all these authenticated facts abundantly gave Fani Kayode clean bill of records. The only issue that can be identified which was raised against Fani-Kayode was that he was employing only people of Yoruba ethnicity to the Aviation Ministry and other aviation parastatals; we all know that such reason by any standard is not tenable, and it lacks merit and substance in law. The Committee subsequently recommended to the Senate that Fani-Kayode should be barred from holding any public office for 5 consecutive years. But the leadership of the Senate in its esteemed wisdom stood its ground and throw out completely the evil and illegal recommendations made by the Committee. It was later discovered that Senator Iyiola Omisore who is also nursing gubernatorial ambition in Osun State and a member of that same Senate Committee was the one who master-minded this entire plot, and little did he know that he is political failure, because Fani Kayode stands better chance than him based on the merits of his political pedigree. My candid advice for Omisore is that he should clear himself off from all charges which led him to the Prison custody in those miserable years of his, right after he was impeached as Osun State Deputy Governor under Governor Bisi Akande, he should have learnt a lot of lesson from that ugly precedence, yet his contributions at the Senate as people's representative till date are nothing but absolute nonsense, no doubt he is a disgrace to his family and the good people of Ife (the Yoruba cradle).

Interestingly all others that had been originally arrested and detained with him were later charged at the Abuja High Court but Fani-Kayode was not amongst them. However 6 months later, on the 22nd of December 2008 , Fani-Kayode was re-arrested by the Economic Financial Crimes Commission (EFCC) for alleged allegations of money laundering. This has nothing to do with the aviation intervention fund as the operation of the account in question covered period preceding his appointment as the Special Assistant to President Olusegun Obasanjo. In fact it was the accumulated deposits into the account within a spate of four years that they added up to raise the so-called N250million. Interestingly, the amount in the said account was not up to N200, 000.00 on the day Fani-kayode was arrested. When has it become a crime to serve one's country meritoriously? He was arraigned on a 49 count charge for money laundering. Justice Ramat Mohammed of a Federal High Court in Lagos, has last year (2009) ruled and rejected the inadmissibility of the computer print-out of a statement of account which the EFCC had tendered before his Court as an evidence in the alleged money laundering case against the former Aviation Minister, Femi Fani-Kayode. However, in the interest of the general public, it is essential I reiterate that this is not the first time a Court of law will reject the admissibility of computer print out of statement of account as evidence. A similar thing happened as far back in 1976 in the case of Yesufu vs. ACB Ltd (1976) 1 All NLR (Part 1) 264 @ 273 wherein the Supreme Court per Fatai-Williams, CJN (of blessed memory) upheld the submission of Chief F.R.A. Williams, CFR, SAN (of blessed memory). I understand EFCC has appealed this judgment but I have no doubt in me that they would still fail at the appellate Court.

And it is amusing to hear that the investigations covered issues like the pen, the chairs and the cars of the Ministry all in their bid to nail him at all cost. However, all these cruel actions against Femi Fani-Kayode are obviously politically motivated and that provided more evidence of the persecution that the Yar'Adua regime was unleashing on all those that had once worked closely with President Olusegun Obasanjo. Amongst those that have been subjected to similar persecution, who have been declared wanted because they are out of the country and who are also being prosecuted in absentia are Nuhu Ribadu and Nasir El-Rufai. Again these charges are politically motivated. In my view there is absolutely no evidence of any wrongdoing or money laundering against Fani-Kayode and neither do I believe that El Rufai stole the billions that the EFCC is claiming. We await the verdict of the Courts but Fani-Kayode has sworn to stand and fight and clear his good name irrespective of the intimidations and victimizations posed by the EFCC and other agents of Yar'Adua's administration. Pitiably, for over 2 consecutive years now Fani Kayode's traveling documents have been with the Economic and Financial Crimes Commission (EFCC) and the commission has not made any attempt to revert this unfriendly measure meted on Fani- Kayode even as there are no facts or evidence to indict him of any wrong doing while he served as the aviation minister or in any other capacity.

It is embarrassing and shocking to know that the Presidency with the bold signature of Babagana Kingibe (who was disgraced out of us unceremoniously) would want to nab Femi Fani Kayode at all cost under Yar'Adua's instructions; even when there are no evidence to prosecute him.. Authenticated facts showed that a number of Femi Fani Kayode's friends, staffs, personal aides, family members etc have suffered one form of intimidation and molestation by the EFCC all in the name to make him suffer injustice. One of them is Folake St.Mathew-Daniel, a daughter to the former Ooni of Ile-Ife (Titus Martins Adesoji Tadeniawo Aderemi I, he ruled from 1930 until 1980) who is a lawyer in NAMA she was locked up for 3 days and tortured. She was told categorically by the EFCC to lie against Fani Kayode, they stated that she has done nothing but it is Fani-Kayode that they want. It took the intervention of the present Ooni of Ife, HRM Okunade Adele Sijuwade Olubuse II, and that of the former Military President Ibrahim Babangida before she could be released. In another messy scenario to nab Fani Kayode was the arrest and molestation of MD of NAMA, Ado Sanusi (who is from a prominent and reputable royal home in Kano) he was later sacked from office for refusing to lie against Fani Kayode. Moreover, Aderemi Ajidahun who was Special Adviser to Fani Kayode, got his raided and scattered, despite the fact that his wife newly gave birth to child, he was apprehended by EFCC. He was subjected to all manner of indignity/torture and detained for 4 consecutive days, because he declined to implicate his boss, Femi Fani-Kayode; I can go on and on, infact the list is long. But unfortunately for the image of our country, there are many interest groups in the international community particularly within the British and American ruling class who are watching this case (political vendetta) against Fani Kayode with keen interest and with great shock, in a supposed democracy. I am currently based in New York , and I can tell the world all these reactions from the international communities are real and there are facts to substantiate them. It is worthy to know that regardless of all the oppressions and torture, he and his family members are presently and undoubtedly going through, Fani Kayode has remained totally focused, committed, dogged and resilient on his political career, and he often appears to be in high spirits and has refused to break. This surely is the stuff of which real leaders are made. I am not surprised that there are many forces attempting to truncate the dream of Fani-Kayode of becoming the Governor of Osun State next year (2011), but one thing is certain, God is greater than them; he will divinely get his way to that seat despite all odds.

However, persecution and false allegations are nothing new in Nigerian politics and Fani-Kayode no doubt believes that its just a matter of time before he is vindicated. Regardless of which side of the political divide that you are on one thing is clear- Fani-Kayode is highly intelligent, well-exposed, well-educated, well-experienced, politically ambitious, highly resilient, extremely tough and in my view he is one of those that will play a key role in the future of this country regardless of the fact that some heartless individuals are attempting to destroy his political career and future. The truth is however that Femi Fani-Kayode is simply irrepressible. This is mainly due to his absolute faith in God and also as a consequence of his very deep religious convictions. He also believes in the country's judiciary hence the reason why he refuses to embrace self-exile. He is indeed a man of faith and he can certainly hold his own and perhaps even outshine some of the brightest and best in the world's political stage today. The new Nigeria will certainly need such men and we, as Nigerians, should be proud of having such class and quality within our ranks. Therefore, would be most uncharitable for anyone to put Femi Fani-Kayode in the class of (with due respect to these people) Chief Olabode George, Chief James Ibori, Chief Diepreye Solomon Peter Alamieyeseigha, Mrs. Cecilia Ibru, Erastus Akingbola, Chief Joshua Dariye, Peter Odili, Luck Igbinedion Chief Sunday Michael Afolabi, late Mrs. Adenike Grange, Dr. Fabian Osuji and the host of others. I will appreciate if Next Newspaper can please conduct thorough investigations so that records can always be set accordingly. Those that loot the treasury know themselves. It is just unfortunate that some unscrupulous elements are out for selfish and mischievous reasons to tarnish the image of people who have made indelible records in their respective duties for political reasons. Nigerians and the world at large should be patient, a publication titled ''Let the Truth be Told'' authored by Chief femi Fani-Kayode himself will soon be released, this book painstakingly chronicles and captures the retrogressive and inhuman activities of Yar'Adua administration against Chief Femi Fani-Kayode in a democratic dispensation.

Dayo J. Atofolaki is a Social Commentator (based in New York) and Alumni of Harvard Business School. [email protected]
Disclaimer:

"The views expressed on this site are those of the contributors or columnists, and do not necessarily reflect TheNigerianVoice's position. TheNigerianVoice will not be responsible or liable for any inaccurate or incorrect statements in the contributions or columns here."
Articles by Dayo J. Atofolaki