Anti-Yar'adua Rally Staged In Lagos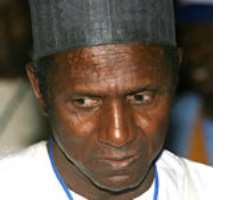 Umar Yar'Adua and Goodluck Jonathan
About 3,000 people marched through Lagos on Thursday to demand absent President Umaru Yar'Adua hand full powers to his deputy Goodluck Jonathan, ending a power vacuum in Nigeria.
The crowd marched to the Lagos State Governor's office and handed in a letter demanding Yar'Adua, who has been in hospital in Saudi Arabia for two months, step down.
The demonstrators carried placards reading "Enough of the Offshore President" and "Go Umaru Go!".
"We have a ship now without a captain. A plane without a pilot," said Joe-Okei Odumakin, leader of Nigeria's Campaign for Democracy.
Yar'Adua has spent nearly 60 days in Jeddah for treatment for acute pericarditis, an inflammation of the membrane covering the heart.
A similar rally was held in the capital Abuja last week, led by Nobel literature laureate Wole Soyinka.
Calls for Yar'Adua to step down or transfer power to Jonathan, the vice president, have mounted in recent weeks.
Opposition lawyers have petitioned the high court in Abuja to have Jonathan sworn in with full powers, on the ground of Yar'Adua's "incapacity".
The same court ruled last week in a separate case that Jonathan can carry out presidential duties in Yar'Adua's absence without a formal transfer of power. AP