Noisy Sex Woman Spared Prison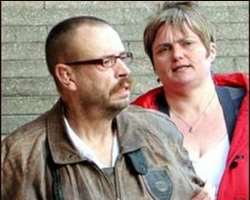 The Cartwrights' noisy love-making
A woman who breached an Asbo (Anti-Social Behaviour Order) banning her from having noisy sex has been given a suspended prison sentence.
Carolineb  and Steve Cartwright's "unnatural" love-making prompted complaints from neighbours, a postman and a woman taking her child to school.
The 48-year-old, from Washington on Wearside, had earlier pleaded guilty to three counts of breaching the Asbo.
At Newcastle Crown Court, she was given eight weeks suspended for 12 months and a 12-month supervision order.
During a previous hearing, next door neighbour Rachel O'Connor told the court she was frequently late for work because she overslept having been kept awake most of the night.
She said: "The noise sounds like they are both in considerable pain. I cannot describe the noise. I have never ever heard anything like it."
In December, Cartwright, of Hall Road, lost an appeal against the Asbo and an earlier noise abatement order.
Passing sentence, Judge Beatrice Bolton said: "I've heard a very short extract of the noise you make and can well see that your neighbours would be upset and distressed by this.
"The difficulty here is that the first occurrence was the day following the order. Then three days later you breached it again.
"In addition it's quite clear from the small extract I heard that you made no attempt to silence yourself."
Ms Bolton warned Cartwright that if she committed further offences of the same nature, she would be sent to prison. BBC