Barca Vulnerable As Malaga Looms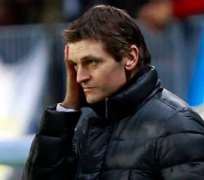 Showing its first signs of vulnerability, defending champion Barcelona will visit Malaga on Thursday needing to overturn a 2-2 draw to advance in the Copa del Rey and set up a likely semifinal against Real Madrid.
After strolling through the first half of the season, Barcelona has suddenly stumbled in consecutive games and faces its first must-win match of the campaign.
Madrid visits Valencia the day before, holding a 2-0 advantage from the opening leg. Madrid routed Valencia 5-0 in a league match on Sunday.
On the other side of the bracket, Atletico Madrid is at Real Betis on Thursday aiming to protect its 2-0 victory from the first leg. Sevilla hosts Real Zaragoza on Wednesday after they drew 0-0 in their first meeting.
Last week, Barcelona was held to a home draw by Malaga despite playing against 10 men, conceding a 90th-minute equalizer from Ignacio Camacho.
The team then lost 3-2 Saturday in league play at Real Sociedad after leading by two goals, and allowing its opponent to score in stoppage time.
Barcelona midfielder Andres Iniesta said the slip-up in San Sebastian had put his team "on alert."
"We are going with the conviction that we will win on Malaga's field and that we will be in the next round," Iniesta said. "Of course it is possible (we won't). We are taking on a team with great players playing at home with two away goals in hand, but we have never contemplated being eliminated."
Barcelona's unexpected dip in form comes in the same week when goalkeeper Victor Valdes, a mainstay for the Catalan team for the past decade, said he would not renew his contract beyond the end of next season.
Adding to the instability at the club, coach Tito Vilanova won't be on the touchline for the critical game at La Rosaleda Stadium after reportedly traveling to New York to seek further treatment following surgery to remove a tumor from his throat. Assistant Jordi Roura will take his place for the second time since Vilanova had surgery in December.
Iniesta said he respected Valdes' decision to end his career elsewhere, adding that he didn't believe it would affect the goalkeeper's or the team's performance.
"If things don't work out it will be because we didn't do what we were supposed to, not because of Victor," Iniesta said.
Malaga is winless in January with three draws and two losses between the league and cup competitions.
"Eliminating Barcelona would have a worldwide impact," Malaga defender Martin Demichelis said. "Last weekend proved that Barcelona is not invincible and that you can even come back from 2-0 down. I hope they have some doubts about this game, although I don't think they will since they are a group accustomed to winning every two or three days."
Madrid finally recovered its attacking flair from last season over the weekend when it beat Valencia thanks to two goals each from Cristiano Ronaldo and Angel Di Maria, and Mesut Oezil's playmaking.
Now it returns to Mestalla Stadium with the chance to make it three wins in nine days over the hapless Valencia.
Valencia will be missing top scorer Roberto Soldado, out nursing a leg injury picked up in his team's rout.
"The game on Wednesday will be an entirely different match and (we expected) it to be difficult," Di Maria said. "It's a knockout round in the cup, and they are going to come out looking to win from the start."
If Barcelona and Madrid reach the semifinals, it will be the third straight year the rivals clash in the Copa del Rey. Madrid beat Barcelona in the 2011 final, while Barcelona ousted Madrid in the quarterfinals last season on its way to winning its record 26th cup title.
SUPERSPORT