Amaechi Tasks Governors On Security Of Citizens At Town Hall In Houston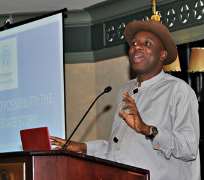 … Tells Orubebe To "Face His Work"
SAN FRANCISCO, January 21, (THEWILL) – The Rivers State Governor and Chairman of the Nigeria Governors' Forum, Mr. Rotimi Chibuike Amaechi has charged his colleagues to do a lot more in securing the lives and properties of citizens residing in their states.
Amaechi made the declaration on Sunday during a town hall meeting with diaspora indigenes of Rivers State in Houston, Texas.
He said governors could face impeachment proceedings if they are unable to provide security in the state they govern.
"The first offence governors commits is when they are unable to provide adequate security for their people. The first oath taken by elected leaders is to protect life and property. It is the responsibility of the government to provide security for the people.
"I hate to see people building high fences in the name of providing themselves with security,'' he said.
The Governor, who had earlier met with some foreign investors, also linked poverty and a lack of education to insecurity.
Amaechi said Rivers State has taken several steps to detect and prevent crimes in the state with the motivation, training and re-training of the policemen and other security agencies operating in the state, and the establishment of a centralized rapid response call control centre fitted with state of the art communication equipment alongside the purchase of security patrol helicopters.
"In Rivers state, we have sustained security achievements via the introduction of more modern and reliable real-time security equipment like CCTV's for streets and other public areas, as we hit greater energy efficiency,'' he said.
Rivers State has also embarked on major policy reforms aimed at improving and shoring up investors' confidence.
While responding to a question on his perceived Presidential ambition in 2015, Amaechi said he would rather concentrate on his current job and ignore speculators.
"For those who talk about me and the Presidency, this will be the last time I will talk about it. Lets assume I want to be president, why wouldn't I look at the history of presidents in Nigeria? President Shehu Shagari wanted to be a senator, Obasanjo was in prison he never dreamt to become president, Yar'Adua never dreamt of becoming president, Goodluck Jonathan never wanted to be Vice President, he then became vice and later President. Nigeria has never produced a President that has fought and prepared to be President.
"The only two persons that had held that position that were prepared were Babanginda and Abacha. Every other person in the history of Nigeria got there accidentally.
"The assignment I have for now is to govern Rivers State and that is it.
"If any other person thinks this man has ambition, it is that person's business. So if that is the reason for which Rivers State is being denied everything, too bad.
"I have said it, they don't like Rivers State. If they like Rivers State, they should show us evidence that they like Rivers State. Everything that comes to Rivers State they have taken away. I have said it to the President.
"Even ordinary wavers for security helicopters, agricultural materials, they wouldn't grant the state. Anything we apply for they will never approve. There is nothing we applied for that we have successfully gotten, absolutely nothing.
"It is not that the President is bad, the President is absolutely a good man, but those people around him continue to give that impression of hatred and dislike because that is how they will succeed and make their money,'' the governor said.
Meanwhile, Ameachi has told Niger Delta Minister, Mr. Godsday Orubebe to concentrate on delivering roads and infrastructure to the states that make up the Niger Delta area instead of taking swipes at him.
Orubebe had last week accused Amaechi of disregard for President Goodluck Jonathan and plotting to run for the office of president in 2015. The Niger Delta Minister also accused him of wasting funds belonging to the people of Rivers State on politicking for 2015 instead of using it to provide infrastructure for the state.
Amaechi said, "My advice to him is that he should face his work. I think my spokesman has replied him appropriately. They should have asked Late President Musa Yar'Adua before he died his mission for the establishment of the Ministry of Niger Delta.
"I want to assume that I know Yar' Adua sufficiently enough to know the reason why he established the ministry. He believed that that area has not seen proper development.
"The ministry has so far failed and as far as I am concerned Orubebe's current rant is a strategy to distract Nigerians and the Niger Delta people. He has been entrusted with that position to superintend over my state and eight other states in terms of development and I have not seen one in my state, and I doubt if any of my colleague has told me that he has seen one.
"I have told him to tell us how far he has gone and who the contractors are, and the process by which the contractors were chosen? I am open to a debate, and I am ready to tell Orubebe that for every project that he shows me that he has completed, I will show him 10 projects in Rivers State that Rivers State Government has constructed. So if Orubebe wants us to go public any day, I usually tell them that the problem with me is that I am not an old man, I am equal to the task of confronting any of his subordinates who confront me on issues that are mundane.
"As for the President, I owe him a lot of respect and regard, he is a very good person. I have told him personally that for him, I see him as a very good person, the problem I have is that some of his lieutenants need to able to account for what they are doing in their different ministries, Amaechi said.