Jaji Bombing: SSS Parades Two Suspects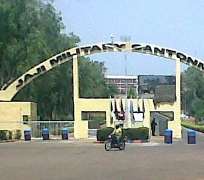 SAN FRANCISCO, January 19, (THEWILL) – Two suspects, held in connection with the bombing of St. Andrews Protestant Military Church at the Command and Staff College, Jaji, Kaduna State, on November 27, 2012, were paraded, Friday, by the State Security Service (SSS).
The SSS had earlier arrested the suspects, 18-year-old Ibrahim Mohammed (a.k.a. Alilullah), and Mohammed Ibrahim Idris, 50, during a raid on their hideout Friday.
Parading the suspects before newsmen, Deputy Director, Public Relations of the SSS, Ms. Marilyn Ogar, said the 18-year-old Mohammed had confessed to being indoctrinated into the Boko Haram sect by Bashir Madalla.
Mohammed also disclosed that Madalla trained him in the use of firearms and the production/priming of Improvised Explosive Devices (IEDs). It would be recalled that Madalla was killed during an exchange of fire with security agents last year.
The suspect, who is from a town in the South-west, claimed to be a student in a secondary school before he dropped out at junior secondary level on the prompting of a certain Mallam Abdulhamid, an Islamic cleric, who told him that western education is evil.
According to Mohammed, the Jaji attack was carried out by one Tasiu and Mallam Lawal who assumed the leadership of the sect in Kaduna upon the death of Madalla. Tasiu and Lawal died in the bomb attacks.
Mohammed stated that he accompanied the two suicide bombers to the gate of Command and Staff College on the day of the attack.
He also confessed that he was the one sent to bring the fertilizer used in priming a Toyota Matrix, one of the two cars used in the bomb attack.
The second suspect, Mohammed Idris, claimed to be a yam hawker in his native town, Jalingo, Taraba State, before he was recruited and indoctrinated by a fellow yam hawker named Lawal in August 2012.
According to Idris, it was Lawal who relocated him to Kaduna and gave him a two- bedroom flat in Rafin Guza area. The apartment also served as the sect's operational base.
Idris, who served as motivational preacher and father figure for the sect members, also conducted surveillance on selected targets using yam hawking as decoy. He is married with four children.
The SSS spokesperson said the two suspects would be handed over to the military authorities for further investigation, adding that other suspects arrested in connection with the Jaji attack were still being investigated.
"While appreciating the inestimable cooperation of Nigerians in the war against perpetrators of evil, the service wishes to re-assure members of the public of the collective resolve of the security agencies to bring to an end the activities of unpatriotic elements and restore peace, security and harmony to our dear country", Ogar said.