Nigeria beaten in U20 World Cup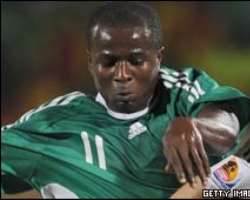 Danny Uchechi gave Nigeria the lead against Germany
Nigeria are out of the Under-20 World Cup after going down to a 3-2 defeat at the hands of 10-man Germany.
The Flying Eagles twice gave up their lead and then allowed Germany to snatch it on the break in stoppage time.
Two goals from Bjorn Kopplin plus a strike from Mario Vrancic gave Germany the win - answered by Danny Uchchi and Rabiu Ibrahim.
It was a dreadful way for them to end their tournament, after a spirited display in this game, in which they finally created and converted some chances.
In the early stages they were far more positive than they had been in previous matches.
At the other end, Nigeria keeper Uche Okafor was being kept busy - diving to his right to stop a goal-bound header and racing out of his area to clear under pressure.
But at half-time neither side had been able to break through and it remained 0-0.
Not for much longer. With seven minutes played of the second half Nigeria's Uchechi scored with a strong header at the far post.
The Flying Eagles celebrated wildly and, distracted, the defence allowed Germany to break straight from the restart and equalise within seconds through Bjorn Kopplin to level the score at 1-1.
Shortly afterwards Germany were down to 10 men when Tobias Kempe was sent off for an apparent stamp on Nuredeen Orelesi.
And Nigeria were back in front in the 68th minute when Orelesi charged down the left, found Ibrahim on the edge of the area and he turned to fire the Flying Eagles into a 2-1 lead.
But again their lead lasted only a short while, as Mario Vrancic made it 2-2 after Nigeria's defence had again opened up.
Into stoppage time at the end of the match Nigeria were pressing desperately to let their man advantage tell - but Kopplin picked up the ball on the break, and with the defence all up the field, took it past the keeper to send the Flying Eagles out.
In the day's earlier games, United Arab Emirates beat Venezuela 2-1 to go through to meet Costa Rica in the quarter-finals.
And Brazil beat Uruguay 3-1 in a thrilling match in Port Said.