When Nigeria fails, Ghana leads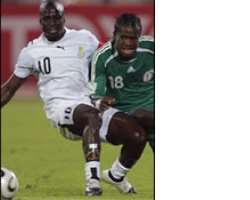 We like to believe that Nigeria is the giant of Africa, the continental Leviathan who has the power, influence and oil money to command the respect of other African countries. I am not too sure there is still any basis for such claims. What we think about Nigeria is not exactly the same as how other countries think about us. What we hold in our imagination is quite different from the real situation in Nigeria.
Beliefs and expectations are like dreams - they are free. We are free to believe anything. We like to believe that in the international community, Nigeria is highly regarded, so much so that when our reclusive Umaru Musa Yar'Adua finds the time to speak at those rare global forums which every serious national leader uses as a platform to express his or her country's vision of humanity, the world would pause and listen. In the name of patriotism, many of us suspend the truth and brag about the invincibility of our national soccer team at senior and junior levels, not minding that Nigeria's junior soccer team has just been bundled out of the group stage of the Under-20 world soccer competition taking place in Egypt.
We like to proclaim loudly about the military power of Nigeria. We like to believe that in international diplomacy, Nigeria's foreign policy is unimpeachable. This is true of the past but certainly not of the present. For much of the 1970s and the 1980s, Nigeria pronounced Africa as the centerpiece of its foreign policy. That policy direction was articulated not only in the form of an official document but also in a practical sense through Nigeria's leadership role in various parts of Africa, such as Nigeria's role in Angola's war of independence and the hosting of the glamorous African arts and culture in 1977 (FESTAC '77).
From the realm of contestable beliefs, let's revisit some home truths. In many countries, Nigerians are viewed - correctly or inaccurately - as a proud and loud people. In the past, we had good reasons to be proud and noisy. We could point to certain aspects of Nigerian life and achievements as evidence of the source of our arrogance. However, within the past 15-20 years, the image of Nigeria within and outside Africa has collapsed. All the factors that earned us international recognition and respect have disappeared. The economy is on life support. University education has disintegrated. Our public hospital system is in shambles. Armed bandits and hired assassins are holding an entire nation hostage. The police are overwhelmed.
It is hard to find valid reasons why Nigerians should hold their heads high in the international community. Is it a government that is motionless but still pretends to be active? Is it a government that continues to embarrass its citizens at the United Nations? Is it the poor quality of federal roads across the country? Should we mention the growing trend where corrupt former governors and businessmen are protected from prosecution by agents of the state?
In sports, Nigeria has been served badly by a combination of incompetent and corrupt officials, as well as arrogant sportsmen and women who behave as if a call to the national team is an invitation to the Kirikiri Maximum Security Prison. Take a look at the trajectory of the decadence in the Nigeria Football Association (NFA), now re-baptized the Nigerian Football Federation. Gone were the days when you could bet that the Super Eagles would beat top flight soccer nations in Africa. Not any more! Today, just about any national team in Africa can overhaul our best eleven. Rather than demonstrate our sporting talents, our sports officials in particular and some of our sportsmen and women have chosen to market sex scandals and financial fraud.
Confronted with the compelling evidence of a nation that has since passed out, many of us persist with the tunnel vision which perceives Nigeria as a continental giant. Shouldn't a giant behave and be respected as a giant? If some people still love Nigeria, it must be because they want to be optimistic that the future would be better than the present chaos.
In order to sustain our faith in the superiority of Nigeria, some Nigerians, including top federal ministers, engage in bashing other African countries, particularly West African countries that are geographically proximate to Nigeria. Take, for instance, our relationship with Ghana. We perceive Ghanaians as our "little" brothers and sisters (emphasis on the word "little"). Others even go so far as to assert that they can't stand any suggestion that Ghana has surpassed Nigeria in various ways. Accent is usually placed on the "smallness" of Ghana. They speak disdainfully about Ghana's "small" population, Ghana's "small" economy, Ghana's "small" army, Ghana's "small" university system, etc.
Despite these fatuous claims, evidence suggests there are areas where Ghana has indeed done better than Nigeria. In soccer, for instance, Ghana's Black Stars have qualified for the 2010 soccer world cup in South Africa while Nigeria remains unsure of qualifying. When the United States' President Barack Obama visited Africa, he went to Ghana and shunned Nigeria. The Ghanaian currency, the cedi, is nearly at par with the United States' dollar, while our currency, the naira, is racing toward entering the basket of currencies that are symptomatic of under-developed countries - the so-called banana republics.
Of course, Ghanaians have every right to be outraged by the little respect Nigerians accord to them. On Wednesday, 9 September 2009, Nana Yaw Aboagye of the Ghana High Commission in Abuja complained angrily in a letter to the editor published in The Guardian. I will quote extensively from that five-paragraph letter.
The first paragraph read: "I am compelled to write to express serious concern about a couple of statements by some top Nigerian officials about Ghana in recent weeks. Last month, Defence Minister Godwin Abbe was quoted as saying, 'the volume of water generated in Ghana is not enough to flush toilets in Lagos State, the number of teachers you have to pay salaries in the whole of Ghana is not more than Western Nigeria so that is that. And the whole of Ghanaian Armed Forces, if you choose to know, is not more than just two brigades of the Nigerian Armed Forces, period.'"
It is easy to understand the Defence Minister's negative comments about Ghana. If Nigeria cannot match Ghana's achievements, Nigerians can attempt to pull down Ghana by verbal means.
The second paragraph of Aboagye's letter recalled another incident of Ghana bashing by a Nigerian minister: "Only last weekend, Education Minister Sam Egwu was on national radio talking about the ongoing ASUU strike, and he made the most ridiculous assertion that all the university lecturers in Ghana will not be adequate for a single university in Nigeria! This is a blatant falsehood. Anyone who had been to the University of Ghana Legon (with a student population of more than 40,000), can testify to the fact that probably no university in Nigeria has more space and facilities than Legon..."
The major counterpunch was delivered in the third paragraph when Aboagye wrote that "...The entire first generation of Nigerian military officers, including Generals Olusegun Obasanjo, Hassan Katsina and Adebayo were all trained in Ghana. Ghanaian army generals have commanded UN troops in Lebanon, Liberia, Rwanda, Darfur, etc over the years."
Aboagye wrote further: "Information Minister Dora Akunyili also told a local television network at the end of August that the whole of Ghana is not even up to the size of Lagos! Even a child in kindergarten knows that to be untrue. Government officials, unlike private citizens, traditionally tend to be circumspect about what they say about other countries. Ghana is smaller than Nigeria, and I reckon everyone knows that as a fact. And it is certainly not the only country in the world that is smaller than Nigeria. Or is it? Or have Nigerian government officials only suddenly realised how 'small' Ghana is?"
The absurdity of all these negative comments about Ghana is that a Ghanaian has just been proposed as an appropriate person to teach legislators in Abuja the art how to review our constitution. So far, the Senate and the House of Representatives have failed to reach an agreement on the methods to be adopted in reviewing our 1999 constitution.
If Ghana is so "small", so politically under-developed and so irrelevant in the international arena, why should Nigeria invite Dr. Kwadwo Afari-Gyan, chairperson of Ghana's national electoral agency, to show Nigerian legislators how they should go about reviewing the Nigerian constitution? Who says Nigeria is superior to Ghana?
Disclaimer:

"The views/contents expressed in this article are the sole responsibility of the author(s) and do not necessarily reflect those of The Nigerian Voice. The Nigerian Voice will not be responsible or liable for any inaccurate or incorrect statements contained in this article."