TIME TO CLEANSE IMO GOVERNMENT HOUSE OF BAD EGGS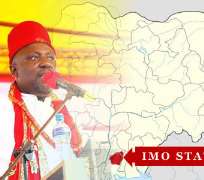 I received a mail from Chudi Kalu (maybe not his real name) who poured venom at me saying that i have received some money and that is why i have changed from criticising Governor Okorocha to praising him. That i will be dealt with soon. Chudi's misguided mail about my opinion on the recent policies of the Imo state government made me to laugh. It has always been the tradition of those who suffer moral kwashiorkor to short-sightedly think that one cannot express one's views without being paid by someone else. If Chudi feels that because i currently stand in favour of some laudable steps of governor Okorocha that i am paid to do so, then he should tell me who paid me when i wrote against the governor or he thinks that he is honest while others are not.
I criticized Owelle when i did because of my love for Imo State. When he does things that deserve praise, i will give him praise. And when he does things that deserve scorn, i will give him scorn. It is the duty and responsibility of the citizenry and the media to criticize the actions, positions and policies of the government. Otherwise, left alone and unchecked, government may violate or abridge the constitution; individuals within government may abuse their powers and use the instrument of state to oppress and repress, engage in corrupt practices and lead the state to utter ruin.
We cannot sit back and allow the governor to fail. It is our state ; and is ours to save, protect and nurture. But Chudi should not expect me to see nothing noble, honorable and viable in some of the work and policies of the governor. What will i gain by sending only lava the governor's way even when i see some good works that he has done. I don't want his head. I don't want him driven out of Douglas House. I don't want him disgraced. I don't want him to be a failure in administration. I want him to put up his best in governance.
Criticism has made Owelle Rochas to rebrand his policies so who am i not to praise him. Do i know better than Former President Olusegun Obasanjo, former Military Head of State, General Abdulsalami Abubakar and other prominent Nigerians that recently showered praises on him? Criticism has made Owelle to do well in cleaning the streets, construction of roads and controlling traffic. He has done well in providing some employment opportunities, paying worker's salary regularly and keeping our schools free from primary to tertiary . He has also done well in security, among other simple things that directly touch on the lives of Imolites. The success of any administration depends on how its policies improve the living standards of the ordinary citizens, and not how richer they make the few rich ones in the corridors of power.
If Chudi Kalu expects me to instigate unwarranted attacks on Owelle's person by posting false and unsubstantiated stories just to break his spirit ,then he is making a big mistake. I am not one of the ex-this and ex-that in politics; those who have been thrown out of office by Okorocha's victory at the poll who are angry and are throwing jabs and uppercuts at the governor . I don't have to spill venoms the way Mount Vesuvius and Mount Saint Helens spilled lava.I dont need to rant and rave, bark, and dump insults at Owelle the way tsunamis dumps anger at isolated Islands.I have never held any political position in Imo State. But as a man who has held accounting and administrative positions in the oil and gas industry for some years now. I consider myself qualified to dish out advice on how to move the state forward.
I have come to have respect for Governor Okorocha for his audacity, his political articulation and how he managed to defeat the big PDP, bluff, ignore and dare all odds and still make himself relevant in the politics of Nigeria. His never say die attitude even at glaring risks staring him in the face makes me wonder. I ask where such confidence comes from.
I look at Imo state in this year 2013 with great optimism. I want Governor Okorocha to in this year 2013 create more jobs for the youths. I am not talking here of providing civil service employment but schemes which will not only get the youths employed but also eventually make them end up as employers. In year 2013 i want our LGA to work democratically again. Imo should strengthen the LGA system.2012 in Imo State was filled with too many political struggles. 2012 in Imo State witnessed high powered political back room struggles with the ruling political party in the state (APGA) and the big opposition party in Imo State (PDP) fighting with each other. Politics should not get in the way of development of the state this year.
Okorocha should as a matter of urgency flush out the bad eggs in his cabinet. There are some bad eggs currently holding political positions in his government. These bad eggs are working against his government and tarnishing the image of his administration. These bad eggs have been working underground to discredit his administration .He should do away with the bad tools in his toolbox and get better ones before it is too late.He should bring in people with energy, professional soundness, fresh and workable ideas to help propel the state forward. He should this year unite Imo people through a policy of political inclusion.
How can anybody justify an aide to a governor who is a kidnapper? Is such an aide not a bad egg? It was all over the news that the abduction of Miss Nkiru Sylvanus, Nollywood actress and the special assistant to Governor Rochas Okorocha on Public Affairs in December for which an 8 million naira ransom was paid is an insider job. We were told that a Director-General of Youths and Students Affairs to Governor Okorocha was detained by the Imo State Police Command over his alleged involvement in the kidnap saga. He was said to have been implicated by text massages allegedly exchanged between him and the abductors. More like him are in the governor's cabinet. It is time to flush them out. Action speaks louder than words.
Written By Kenneth Uwadi, Mmahu-Egbema, Imo State, Nigeria
Disclaimer:

"The views/contents expressed in this article are the sole responsibility of

thewillnigeria.com

and do not necessarily reflect those of The Nigerian Voice. The Nigerian Voice will not be responsible or liable for any inaccurate or incorrect statements contained in this article."
Articles by thewillnigeria.com