Syrian Army On Offensive In Aleppo After University Blast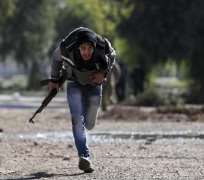 Syrian armed forces launched a renewed offensive in the northern city of Aleppo on Wednesday, state media said, a day after 87 people were killed in explosions at the city's university.
The state news agency SANA said the military had killed dozens of "terrorists" - a term Damascus uses for rebels trying to overthrow President Bashar al-Assad - in the new fighting.
Reuters cannot independently verify reports due to media restrictions in Syria.
"The Armed Forces carried out several special operations against the mercenary terrorists in Aleppo and its countryside, inflicting heavy losses upon them in several areas," SANA said.
Aleppo is split roughly in half between government and rebel forces. SANA said dozens of "terrorists" were killed in the rebel strongholds of Sukari, Bab al-Hadeed and Bustan al-Qasr.
Government forces also killed militants in al-Laramon, a area of Aleppo from which Damascus says two rockets were fired into the University of Aleppo on Tuesday, it added.
If confirmed, the government's report of a rocket attack would suggest rebels in the area had been able to obtain and deploy more powerful weapons than previously used.
The Syrian Observatory for Human Rights, a Britain-based monitoring group, said 87 people were killed and dozens wounded in the explosions, but it could not identify the source of the blasts. It said the toll could rise to more than 100 as there were still body parts that were unaccounted for.
State television showed a body lying on the street and burning cars. An entire facade of a multi-story university building had crumbled and cars were overturned. An interior shot of a corridor showed that the ceiling had caved in.
Amateur video footage showed students carrying books out of the university after one of the explosions, walking quickly away from rising smoke. The camera then shakes to the sound of another explosion and people begin to run.
Syria has been plunged into bloodshed since a violent government crackdown in early 2011 on peaceful demonstrations for democratic reform which turned the unrest into an armed insurgency bent on overthrowing Assad.
Each side in the 22-month-old conflict blamed the other for Tuesday's blasts at the university, located in a government-held area of Syria's most populous city.
Some activists in Aleppo said a government air strike caused the explosions, while state television accused terrorists of firing two rockets at the university. A rebel fighter said the blasts appeared to have been caused by surface-to-surface missiles.
The nearest rebel-controlled area, Bustan al-Qasr, is more than a mile away from the university.
The Observatory said rebel sources on the ground reported they were fighting with government forces in the early hours of Wednesday around Bustan al-Qasr, implying a renewed push by government forces to expel the insurgents.
REUTERS