Ondo Commissioner Slaps Director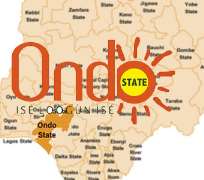 Ondo state commissioner for Transports , Mr Nicolas Tofowomo yesterday threw decorum to the winds as he openly slapped a director at ministry of works , Mr  M.J Afeniforo severally over a trivial issue.
The commissioner was said to have approached the director for a tractor but Afeniforo was said to have told the commissioner that all the tractors were already working at various sites.
It was gathered that Afeniforo also told the commissioner that the Commissioner for Works, Engr. Gboye Adegbenro was  aware of the development and requested him to call to verify.
Tofowomo however  called the commissioner for works  and told him that the Director of  Mechanical  had diverted all  the tractors to his home town.
The Director, it was learnt cautioned Tofowomo not to lie against him since he was saying the tractors were diverted to Ilara-Mokin.
The Commissioner was furious and slapped  the Director severally  for arguing with him, an attitude sources in the ministry said had become a common occurrence with Tofowomo.
The development triggered off anger in the workers in the ministry of works who trooped out to protest the assault on their senior officer and the commissioner who sensed dangers left hurriedly to his office The protest was later taken over by the state chapter  of  the Nigeria Labour Congress (NLC) and Trade Union Congress (TUC) members who converged on the premises of the ministry of Work.
The intervention of the Chairman of the Joint Negotiation Council, Mr. Solomon Adelegan saved the situation as workers were poised to show the commissioner  the way out of the ministry.
The aggrieved workers however vowed to deal with the commissioner if he did not stop what they called his barbaric behaviour.
All efforts to get the embattled commissioner to comment on the issue proved abortive as he did not respond to all the calls put to him .
Tofowomo was a cab driver at the United States before his appointment as a commissioner about two years ago. He is in charge of the Ministry of transport which supervises the National Union of Road Transport Workers, (NURTW) among other establishments.