Dame Jonathan Heads Back To Germany For Another Round Of Medicals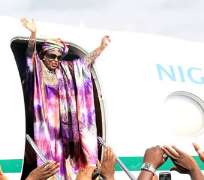 SAN FRANCISCO, January 14, (THEWILL) – Nigeria's First Lady, Dame Patience Jonathan has again travelled to Germany for another round of medicals which may be linked to her previous sojourn to the European nation, a source in Aso Rock confirmed to THEWILL Monday.
The source who asked not to be name in the report told THEWILL that Mrs. Jonathan departed Abuja on Monday evening in one of the Presidential aircrafts.
Dame Jonathan had suffered complications from a previous unknown medical procedure which prompted her hospitalization in a German medical facility some months ago, where a couple of surgical procedures were performed on her.
There are still uncertainties with regards to the nature of Mrs. Jonathan's previous ailment.
The source added that the first lady was "doing just fine" before today's journey.
There has been no statement from the Presidency concerning her travel as at the time of filing this report.