AJAOKUTA STEEL: AN ABANDONED NATIONAL TREASURE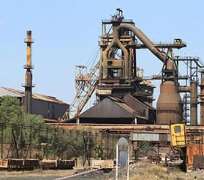 The careless abandonment of the Ajaokuta Steel Company (ASCO) by the federal government, after spending about seven billion dollars on the project, with less than one billion dollar to complete it has since been an issue of great concern to most Nigerians; particularly those
who are versed enough to know what we are losing as a nation from not ensuring the full operation of the steel complex.
All over the world, steel development is believed to be an essentially fundamental component to enhance economic growth. This is why many countries, including third world nations have continued to do everything possible to ensure the sustenance of their steel sector.
The case in Nigeria is evidently different as we seem to have closed our eyes to the numerous benefits derivable from having a sound and robust steel sector. Successive governments, for instance, have heedlessly abandoned the Ajaokuta steel project, not minding its strategic role to the industrialization of our great country, and the significant growth and development it can bring to the economy.
In October 2002, Secretary-General of African Iron and Steel Association (AISA), Dr. Mohammed Sanusi, an expert on iron and steel matters, had in a paper observed that, "To industrialize, there is the need to have a sound industrial base. This will provide the solid foundation on which the industrial super-structure will be built. This industrial base is nothing other than a well-developed iron and steel industry that will be producing such critical industrial raw materials as: Cast iron (different categories); Rods and bars (both high tensile and mild steel varieties); Wires (in all its ramifications); Structural steels (light, medium and heavy structural); Flat sheet steels (plain and galvanized, and also the entire spectrum classified as flats); Stainless and other special alloy steels; Rails and pipes; Plates (various sizes in width and thickness)".
For Dr. Sanusi, it is only governments that could provide the initial developmental funds in view of the high capital costs and the long gestation period of steel projects. This, he noted, is the trend worldwide where all pioneer steel industries and accompanying infrastructures of any nation are public-owned.
Explaining further, the steel pundit had said: "It is after several such facilities are available and have proven themselves in a country; then the industry is privatized to allow the government to move on to other strategic areas of development. This is how today's industrialized nations became what they are. Taking cognizance of the above, many third world countries followed suit and have been able to lift their economies away from third world poverty and starvation, and seriously threatening the developed countries of the world in economic wellbeing for their people. A few examples will suffice, thus; India, South Korea, Pakistan, Egypt, Iran, Iraq, Algeria, Libya, Turkey, Venezuela, Indonesia, Singapore, Malaysia and Mexico. The steel projects in all these countries started as serious national projects, with their Governments taking active interest in the steel development."
Pandit Jawaharlal Nehru (1889-1964), first Prime Minster of India, who worked with Mahatma Gandhi to achieve Independence from British rule called the giant steel structures in Bhilai, Durgapur and Ruerkela in the late fifties, the "Temples Of Modern India". Nehru must have made that pronouncement to demonstrate how much value and importance he attached to steel development.
Saudi Arabia, Algeria, Libya, Venezuela, Indonesia and Mexico are oil producing countries with excellent oil reserves. Yet, they deemed it fit to also have developed viable steel industries. In Nigeria, we have continued to depend solely on crude oil and refused to diversify our economy. Even though we have other numerous natural resources at our disposal, we choose to remain a monolithic economy with strong dependence on the oil sector. This obsession, as it were, has made our economy to be susceptible to external manipulation and negatively affects the planning horizons in the country.
When Senator Nurudeen Abatemi-Usman, an accomplished professional with a wide range of experience in engineering, agriculture and management consultancy, visited ASCO and National Iron Ore Mining Company (NIOMCO), Itakpe, last year to assess the facilities on ground in the firms, he argued vehemently that with proper development, the steel sector can conveniently rival the oil sector. In fact, the Senator representing Kogi Central in the Red Chamber of the National Assembly, where ASCO and NIOMCO are located, said he would not go to sleep until the project fully comes to fruition, simply due to what he believes it owns not just for the people of his constituency, but for the country at large.
The Senator had pointed out that "Nigeria for the past nine years has spent over N2.1 trillion to import steel into the country. This shows that the country would have saved a lot of money if the Ajaokuta steel company was working. So, Ajaokuta Steel project is a must-do deal."
The eventual discovery of good iron ore deposits in Itakpe in 1973 led to the formal signing of the Global contract for the implementation of the Ajaokuta steel project between the Federal Government of Nigeria and Messrs Tyajzhpromexport (TPE) of the defunct USSR on July 13, 1979 during the reign of General Olusegun Obasanjo as Military Head of State. It was originally programmed for completion in 1986. But a combination of factors including policy inconsistency and massive corruption was responsible for the failure to meet the deadline.
Upon assumption of office in 1985, General Ibrahim Badamasi Babangida (IBB) visited the Ajaokuta Steel Complex, and in 1986 he signed a new protocol agreement on the project with the same TPE, rescheduling its completion date to 1989. This target date was equally never met and operations at ASCO and NIOMCO had to be halted in 1992. Amazingly, the project was said to have reached 98% technical completion before work on it was stopped.
With an estimated $7 billion already engulfed by the Ajaokuta Steel Company since the contract for the project was awarded in 1979, and about $650 million required for it to become fully operational, enlightened Nigerians, have contended in different fora that it would make much sense for it to be completed. Minister of National Planning, Shamsudeen Usman, for instance, had in the course of his ministerial screening on the floor of the Senate last year wept for Nigeria on what has become of the largest integrated steel company in West Africa. He was responding to a question on the Ajaokuta Steel Company raised by Senator Abatemi-Usman, the young engineer turned politician, who appears to have become a champion for steel development in the country. The minister lamented that in spite of the huge amount of money expended on the scheme, there was nothing on ground in the steel firm to show for it.
A presentation by an official of ASCO during the visit of the 41-year-old lawmaker to the Company, painted a pathetic picture of the position of Nigeria in steel production among some countries of the world. It showed Nigeria as the least in the ranking of 41 countries according to the volume of steel production as at 2008. While China produced 489 million tonnes of steel in 2008, United States 97, United Kingdom 16, South Africa 9 and Australia 8, Nigeria could only manage to produce 0.30. According to data provided by the World Steel Association (WSA), the total world crude steel production in 2010 was 1,413.6 million metric tonnes (mmt). China, which is presently the largest steel producing country in the world, accounted for 626.7 mmt (44.3%) of world steel production in 2010. Nigeria is not on the WSA 2010 list of 40 countries ranked on the basis of steel production volume, which showed that Venezuela the least produced 2.2 mmt.
Irrefutably, Nigeria would have been among the top 10 countries in terms of steel production, if only we had properly harnessed the great potentials in our steel industry, and our economy would have been better for it.
The same TPE which had a frustrating encounter with the Nigerian authorities on the Ajaokuta Steel Company, commissioned and delivered on schedule similar steel projects in China and other countries, where steel development have had significant impact in the advancement of their economies.
There is no gainsaying the fact that the economic wellbeing of Nigeria would be enhanced to a large extent if there is the willpower on the part of government to make Ajaokuta Steel come to life. The project if completed is said to have the capacity to engage over two millions Nigerians directly and indirectly.
The high rate of unemployment in Nigeria is partly responsible for the destructive spiral of violence and criminal activities across the country. Nigeria's unemployment rate increased to 23.9 percent in 2011 compared with 21.1 percent in 2010 and 19.7 percent in 2009 as revealed by the National Bureau of Statistics (NBS) in January this year. 23.9% of our population of over 160 million is about 38 million.
Do we therefore need to be told that it will be a worthwhile investment to complete the abandoned ASCO/NIOMCO project?
President Goodluck Jonathan at his Presidential electioneering campaign rally in 2011 in Lokoja, Kogi State, clearly agreed with the position of many Nigerians when he said: "One thing that is dear to Nigerians is the Ajaokuta Steel Complex and until we revive that complex, we cannot talk about Vision 20:2020. This is because for you to play big globally, you must industrialize and for you to industrialize you must produce steel. The Ajaokuta complex must be revived."
With this comments of Mr. President, it is expected that by now he would have marched his words with action by showing total commitment to the actualization of the project that is capable of turning around our economy in line with his much-proclaimed transformation agenda.
But we really have not seen much in that regard. In the 2012 and 2013 appropriation bill, nothing was allocated for capital budget in ASCO and NIOMCO, except for the infinitesimally paltry N50 million for both companies in 2012 and N47.34 million in the 2013 budget which is still before the National Assembly for consideration.
As an indigene of Kogi State, I am absolutely worried about the pitiable condition of Ajaokuta Steel Company having visited the complex. I am therefore making a passionate appeal to the federal government to do something fast about the revival of ASCO and NIOMCO.
The National Assembly must be able to use their constitutional powers to make provision for the completion of the project in our budgets.
Written By Michael Jegede

Disclaimer:

"The views/contents expressed in this article are the sole responsibility of

thewillnigeria.com

and do not necessarily reflect those of The Nigerian Voice. The Nigerian Voice will not be responsible or liable for any inaccurate or incorrect statements contained in this article."
Articles by thewillnigeria.com