Take ownership of projects, Obi to Anambra people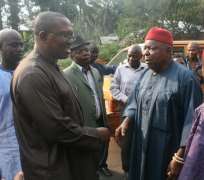 Gov. Peter Obi has charged the people of the state to take ownership of various projects being undertaken in the State. He said this during the inspection of the Eziowelle-Abatete road under construction by his Government. "We cannot be everywhere. I am here today to inspect this road because concerned people posted something on the net. I urge you all to follow the projects we do in your towns and inform us when anything is going wrong", Obi submitted.
The Governor said that the visit to the road project was not planned, but borne out of message circulating on social media about the poor quality of the road. Obi said that in other to get first hand information, he decided to ply the road, from its beginning, Afor Igwe to where construction has terminated. He said he was glad the culverts in the road would make it to last and prevent erosion
On some portions of the road that were not satisfactorily, Obi appealed to the people to be patient as the asphalting already done was not the final. "The moment I got the news, I reached out to everybody, especially my Commissioner for Works, Arc Callistus Ilozumba. He called me back to say that he got in touch with the contractor handling the Job, who assured that the tarring that is subject of controversy was not the final. He assured that the Contractor would complete the road according to specifications, failure to do so, he said, would lead to the contract being cancelled," Obi said.
In an interaction with the community during the inspection, Obi called on them to report any shoddy work by any contractor to him for decisive action, including cancellation of the contract.
In his response, Mr. Onwudike Johnson, a community leader in the area, was full of commendation to the Governor for coming personally to inspect the road, following the news about the road being peddled on social media. "By your today's action, you have restored our hope in this country. You have proved that we still have those who are responsive to the people at the helms of affairs. It is a good demonstration of leadership by example", he concluded.