Why Governors Won't Support LG Autonomy - Amaechi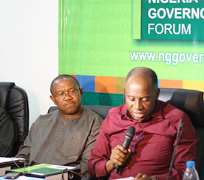 ABUJA, January 06, (THEWILL) - Rivers State Governor and Chairman of Nigerian Governors' Forum (NGF), Mr. Chibuike Rotimi Amaechi, at the weekend in Port Harcourt, foreclosed any expectation for Local Government autonomy in the country,saying Nigerian governors would continue to oppose any call for it.
Positing that Local Governments should not be designated as federating units, Amaechi declared that he would oppose any move to push for autonomy for the Councils.
The governor, who declared his stand on the issue while fielding questions from journalists, said governments all over the world maintain two tiers of governance and therefore insisted that the Governors Forum as a pressure group would continue to oppose calls for Local Government autonomy in the ongoing constitution amendment exercise.
"Of course, yes, we will continue to oppose autonomy of Local Government. Let a state governor or let the states create as many Local Governments as they want to create but don't put it there as a constitutional issue.
"Okay, you say for instance, you are accusing some governors of mismanaging resources; how? I have given example in Rivers State where not only do they collect their money directly, they collect my N2 billion monthly.
"Ask them. I pay the salaries of all their teachers and that is N2bn per month; if you take away that one, my wage bill will come down to N6 bn per month," he said.
According to Amaechi, "The Governors Forum is a pressure group and we will succeed in putting pressure on both the National and State Assemblies.
"Governors are one of the most patriotic elements in this country. I say to you that there is no country in the world that there are three federating units; there are only two all over the world. Why should you say that there must be third federating units in Nigeria."
Gov. Amaechi also denied insinuations that governors were frustrating the ongoing constitution amendment exercise, saying the governors were cooperating with the National Assembly on the amendment exercise. "How will I know that? Just tell me one role the governors are playing in the process. Are we the legislative arm of government? That question does not require an answer because what he(Senator Adeyemi) is saying is that there is no state Assemblies and National Assembly, the governors have constituted themselves into state Assemblies and the National Assembly too," he explained.