GOV OBI TURNS TO TRAFFIC CONTROLLER DURING THE FESTIVITY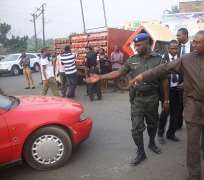 The peaceful and traffic-free yuletide season in Anambra State which has continued into the New Year 2013 has not gone unnoticed by citizens of the State. Many residents are quick to attribute the absence of crime within the period to Governor Peter Obi's effective strategies on security and good network of roads his administaration provided in the State.
A community leader, Chief Anthony Agidigbo Oguejiofor and a publisher, Mr Ethel Uyanna conveyed this mood when they congratulated the Governor on giving the people 'another peaceful Xmas season.' They noted that even in few places that experienced traffic congestion that the Governor was on hand to take care of the situation personally.
In a Press Release yesterday at Onitsha under the auspices of Concerned Anambrarians, Chief Oguejiofor and Uyanna said that the Governor's extra ordinary attention to security of lives and property in the State had resulted in decreasing crime rate over the years. 'However, this state of protection is better appreciated in this festive period.' Continuing, they also commended him for donating 3 armoured personnel Carriers and 50 patrol vehicles to the Police in Anambra State, noting that he had earlier donated patrol vehicles to the army with the promise to also extend it to other security agencies/Vigilante groups in Anambra. They attributed this gesture as borne out of his concerne for the safety of lives and property.
'In December every year, the Governor gives two million naira to each of the 177 communities in Anambra State for security arrangements and palliative work on rural roads. By sustaining that arrangement, he has achieved results.'
The opinion leaders observed that this was consolidated with the Governor's empowerment of unemployed youths. 'Those who would have been idle and a threat to society have been meaningfully engaged in vocational works. We commend the Governor not just for this sense of security but also for restoring confidence in government.'
'It is clear to us that businesses are growing in the State. More companies are opening shops and employing people. The numbers of hotels in Awka alone have tripled in the past two years. These would not be possible in a climate of insecurity.'
They therefore called for increased citizen support for the administration, noting that with the people playing their civic part, Governor Obi would be encouraged to even do more for the people.