Civil Servants in Anambara Pledge Support for Obi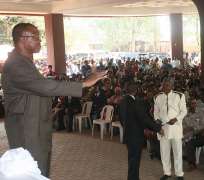 Anambra State Civil Servants yesterday pledged their support for the Government of Mr. Peter Obi, saying that his Government has remained the best since Anambra State was created. This was expressed by the Head of Service of the State, Sir Chidi Ezeoke during an interactive session between workers and Governor Peter Obi at the Old Secretariat of the State yesterday.
Ezeoke said not only had the Governor taken care of basic needs of workers, but that he has continued to show great attributes of leadership by his constant and persistent demonstration of love even when people paid him back with hatred. "From increase in salary of workers for the record five times, he has paid all the arrears of leave, pension and gratuity. He has also, more than anybody, provided basic infrastructure for workers such as the twin secretariat. Under him, Anambra now train and retrain her civil servant. Just shortly before Christmas, he presented official vehicles to the Permanent Secretaries as well as all the judges in the State. He does all this amidst greater things he is doing in other sectors. Just two days ago, he presented 3 armoured vehicles to the police as well as 50 patrol vehicles. This is not all, you and I are witnesses to the great support the Government is rendering to the missionaries to enable them rebuild the schools handed over to them", Ezeoke said.
In his own remarks, the Governor said the routine interaction with workers for him is to demonstrate to them their importance to governance as well as listen and dialogue with them on the progress and development of the State. He reminded them that as stakeholders,they should always realize that the future of the state should be uppermost in their minds.
Amidst thunderous applause and cheers from workers, he announced that each worker would receive extra 3000 in his Jaunary salary as additional charismas package.
The Governor promised to address the future of all the parastatals having one problem or the other.
The Chairman of Nigeria Labour Congress, Anambra State, said the Governor had done well in all ramifications but called on him to consider another increment in salary in the light of economic realities.
Speaking , Pastor Alphonsus Ginika Nwosu, thanked God for what he called " the precious gift of Peter Obi to the State said that since he became the Governor, that the foundation for the future of the State had been laid and prayed to God to give the State a successor that would follow on his footsteps.