2013: Hard Times Await Kidnappers in Delta …As Uduaghan vows to deal with them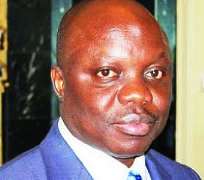 Governor Emmanuel Uduaghan of Delta State has vowed that his government would step on toes this year, if need be, to check the menace of kidnapping, armed robbery and other violent crimes in the state.
Speaking at the annual thanksgiving service organised by Iwere Kingdom, the governor said communities that aid and abet perpetrators of violence on society would not be spared in the crackdown against criminality.
He said: 'All those engaged in one form of criminality or another, such as armed robbery and kidnapping, in the state, should stop their nefarious acts and retrace their steps. This year, we are going to take security more seriously and anyone caught would be made to face the wrath of the law.'
He warned that such acts of criminality were an embarrassment to the state as it was seriously affecting the image of the state among investors and visitors.
'You know I took an oath to protect lives and property and I will not sit back and watch criminals terrorise our people. Communities that provide these criminals safe haven would have themselves to blame as we cannot continue this way,' he warned.
Uduaghan added that his administration was focusing on improving educational infrastructure, training and motivation of teachers so that Delta State would maintain an enviable position in Nigeria's education sector.
He said the scholarship award to first class students of Delta State origin was designed to prepare the ground for a crop of academics who would move the state forward.
He commended the Itsekiri Education Trust Fund initiated by the Olu of Warri and promised to support the vision.
In his sermon, the chaplain of Warri Kingdom, Dr. Mark Erumi, harped on the importance of thanksgiving that is acceptable to God.
Courtesy UrhoboTodayOnline