Me & sugar daddies -Laide Bakare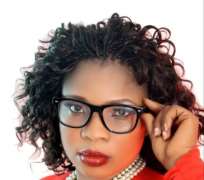 Pretty Yoruba actress, Laide Bakare has been in the news lately due to her acquisition of expensive automobiles, especially SUVs.
In fact, as at the last count, she has four wonder-on- wheels conspicuously parked in her garage.
And this has set tongues wagging about her source of sudden wealth, with many alleging that the married mother of one, must be dating some money bags (Sugar Daddies).
Others even accused her of romancing the immediate past governor of Oyo State, Alao Akala.
In this interview with Sunday Express, the Theatre Arts graduate of the University of Ibadan, spoke on the above allegations and her source of wealth.
Bakare, also opened up on her cold war with Bisi Ibidapo Obe and many more. Enjoy the encounter.

Who is Olaide Bakare?
I am a film maker, an actress and CEO Simline international. My company's name used to be Frontline international, it was given to me by a friend.
We have the state of the heart equipment for making music videos and commercials. We also run a record label. My new company is really taking my time but honestly, I am enjoying it.
Your love and passion for entertainment, how did it start?
Well, I will never be tired of telling the story of my humble beginning in the entertainment industry. I joined the movie industry through my dad over ten years ago. Several artistes used to lodge in one of my dad's hotels in Ibadan and there was a particular time when my father was celebrating his birthday with a house warming and we all went to his hotel which was the venue of the party. And on getting there, we saw so many film makers and stars, some of them liked me and when they needed anything, they'd ask me which I provided for them. It was there that they asked me if I would like to join them. I must confess that I actually love acting and anything that has to do with film production. My father travels a lot and he buys a lot of equipment like cameras for shooting and recording and people that rented them used to tell me of their usefulness in movie production and that was how it started. Later I sought and gained admission into the University of Ibadan to study Theatre Arts for my first degree and then the University of Lagos for my postgraduate and the rest is history.
Before coming to the industry, who were the role models that attracted you into acting?
Unfortunately, home videos were not so popular when I was growing up, but I had some role models in broadcasting. There were also some in acting, people like Joke Silva, Bimpe Adekola, Jide Kosoko, Olu Jacobs and quite a number of them that have made their marks in the industry.
Which of your films brought you to limelight?
Honestly, I don't know because when we were growing up, we were well known in our neighborhood as 'Bakare girls' because the name of our street was named after my father. They often address me as one of the Bakare girls. So when I started appearing on the screen and people still see me and hail me, I will think probably it is because I'm a 'Bakare' girl. But they would be like, we used to see you in movies. But I think it was this movie called 'Ojueye', because I later got an award for the best upcoming act in 1999 with the same movie. I played the role of a Chief's daughter that fell in love with the gateman's son, but they later got married despite all the troubles they faced.
How about your journey into film making?
It all started when I was doing a diploma programme in the Univeristy of Ibadan. It was more of practical back then, so we acted a whole lot of plays. At a point, I picked interest in some story lines written by Femi Osofisan, the then HOD. A colleague of mine translated the script in Yoruba, I got the fund from my parents and then went ahead to shoot the movie. That was early in the year 2000 and I was still a teenager then. Tongues were wagging that I was too young to produce a movie. But I never let that bother me and it was a big challenge to my older collegues. They were like if Laide could do it, they can actually do better.
Then what was your fear?
There was no fear actually. But you know, at a point, some challenges will just arise in the course of production. I was working with older directors, like Niyi Akanni, Kayode Olawale and other big guns in the industry. I didn't have much challenge. I have done like 12 movies after my first production, so I am used to the game. The first one was 'Ewe ju omi', then 11.45, Omo maji, Ijoya, Tumor and lots of others. The latest one is Jejere; it is quite an uncommon film because of its content. Jejere is a super hero movie, featuring Emeka Ike, Fathia Balogun, 9ice and a host of others.
For Jejere, I went the extra length to make a good quality movie, which talks about bad leadership, discrimination against women, love and culture. The movie has been showing in major cinemas.
Simline is putting together a world-class event to officially unveil and present these projects. The event tagged: "The Laide Bakare Experience" will witness the premiere of the movie, "Jerere" and official presentation of my record label and its artistes. The event would be rounded off with a concert that will feature performances by King Wasiu Ayinde, T-code and 9ice among others. It will take place at Orchid Hotel, Lekki, Lagos on Sunday, January 13, 2013. When you make a good movie and interpret it, it doesn't matter the language.
9ice is a well known musician, how did you get him to feature in your movie?
9ice is a talented act, then he is a Yoruba guy and he delivered his role so well. We just gave him a trial and he did wonderfully well.
This year is rounding off, looking back what will you say you have achieved so far?
My company. I have always been an actress but now I am a full fledged director with a record label too. For me, the best is yet to come because I believe I can always do better. I just pray God to give us long life and good health.
Do you think you are getting what you actually deserve in the industry compared to related professions?
You don't judge through financial benefits but fulfilment and happiness. I might not be happy being a banker, a lawyer or what have you. The movie industry is where I know I belong, the profession is what gives me joy and I'm happy doing it. I must also tell you that its not as bad as people think it is. Honestly, we are not doing badly except for some challenges in distribution, you know we distribute all over Africa, also in Europe and America. At times, you'll discover that your movie did not get to where it is supposed to touch. Again, the internet too is not helping matters as people will put your film on the internet without consulting you or paying you any form of royalty. These are the challenges we are facing and once they can be corrected, we are fine.
Why did you choose to concentrate on Yoruba movies rather than English films?
Because the Yoruba producers patronise me more, they appreciate me and give me roles, they know my worth and respect me so much. When you are faced with other challenges and you know the producers are tribalistic and only want to give roles to people of their tribe, it doesn't bother me. This is because I know I've been treated well by producers that know my worth and want me to be in their movies where they pay better money, I won't be bothered.
What prompted your decision to go into music?
I have always loved music. There are targets I set for myself that I have been postponing for so long, so at a point I knew it was time to break the jinx and make it a reality. I also decided to own a record label because of talented youths out there who need to be encouraged. I just want to bring them out for the world to see the great gifts in them. It is all about letting hard work pay other than packaging someone who doesn't know what it takes to sing.
Do you intend grabbing the microphone to sing anytime soon?
Not really. In terms of music, I would rather be behind the camera and give my artistes the best they could get.
How do you combine being an actress, movie director, record label owner, then a wife and mother?
Well, it is God. it hasn't been so easy. I know how long it took us before we could finally have this interview because there's no time, I am always running around for either this or that. But I can't complain because honestly I am enjoying what I am doing.
Aside the first award you received in 1999, have you had another lately?
Yeah! I have won several other awards. This year alone, the movie Jejere has won over five awards. From Best of Nollywood awards to YOMAFA awards, Infinity and even Yoruba Heritage awards in London. As an actress, I have also won lots of other awards. And in all, I will keep giving thanks to God.
Besides, being myself is one achievement that can't be over looked. Based on what I do, I keep improving everyday, lots of good changes in one's life too. In conclusion, it paid off. It is worth the stress I must say.
You are a very pretty woman, don't men disturb you for affairs regardless of your marital status?
One thing you must know is that not everybody that likes you as a person would want to date you. Some just want to be friends and that's all . Most of them know that I am married. Even if they are crazy about me, they should know that I am married. Actually, there is nothing to talk about them. Besides, it is not everybody that has access to me , so they can only admire me from a distance. It is only family and friends that have acess to knowing me better. Anyway, it is good for people to like what you do, appreciate you and learn one or two lessons from your movies.
Aside your fans, how about top society men who 'spoil' our actresses with money, have you been in such situation?
Well, I see no big deal in that. As long as one is a lady, men of different calibres will always come around you. I just don't see it as anything but the lady has to take a stand; if you are not available, then you are not. Things have changed a lot now, unlike the good old days when such things are seen as taboo and shouldn't be talked about. if a man asks you out, it is just a matter of mutual understanding, just talk it over and that's that.
It is being rumoured that the fleet of SUVs you cruise in was bought by one of your sugar daddies, how true is that?
Lot of stories going around, I must say. But anyway, that's Nigeria for you. Our African mentality. We tend to bring up issues at the slightest occurrence. As for me, I don't know where this particular one emanated from. Maybe because I have four SUVs and other normal cars so they believe that someone out there must have bought them for me. Well, my love for big cars like Jeeps is not questionabale because that is what I inherited from my father.
While growing up, my father buys big automobiles a lot and also drives us around in them. And while we are in these vehicles, I also hear them talk about the latest Jeep in town, its features and stuffs like that. So since then, I just fell in love with big cars. I also travel a lot, when I go to America and I see the car that I like , I just go for it and send to Nigeria. And I bought them all with my money.
So you are saying that there was no time anybody bought you a car?
It doesn't matter. But I just can't get a car for a gift, it is not possible. I bought the four SUVs and the Honda car with my own money.
Which of them did the former Governor of Oyo State, Alao Akala buy for you?
I honestly don't know where all those stories are coming out from. Nothing of such happened. He didn't buy me anything. In fact Rita, enough of all these funny questions (laughs).
Back to acting , you once had a fight with Saheed Balogun on stage, what caused the fight?
Ha! I am just hearing that for the first time. You know you journalists hear things we don't even know existed. Saheed Balogun is a big brother to me in the industry, so I see no reason to pick a fight with him. I address him as my big brother.
What challenges do you encounter as an actress?
The only time I had challenges was when I was in the university. It was not easy struggling with education and work. Struggling with my education and the birth of my baby was also a challenge. At a time, I needed to leave school to go and have my baby so, all those things were challenging. I had to travel out of the country to meet my husband and then come back. I was always going out and coming in.
What has being famous deprived you?
A whole lot o! I just want to be as free as possible. Go clubbing, dance like I want to, drink and just be free Laide. Move around freely, jog around, and go to some places . I cant do that anymore because of my fame. It is really eating deep into me. Same reason I will not allow my kids to be popular.
Any regrets so far being in the limelight?
No! Not all. Because in everything I give thanks to God. Where I am today, I never planned for it but God in his infinite mercies has been seeing me through.
What triggers your happy mood?
Well, nothing much. I have always been a happy person. Nature, life, happenings around me have always made my happy and fulfilled to be among the living.
Insiders are alleging that there is a rumoured cold war between you and Bisi Obe-Ibidapo?
I hardly meet her, in fact we hardly see. I have no business with Bisi. She is just a colleague and not a friend.
Maybe journalists might have seen us at events snub each other but that doesn't mean we have a rift. We are neither friends or enemies.
If the acting of a movie brings us together, we'll do our work and go our separate ways.
I have lots of them like that in the industry. I am the kind of person that chooses my friends and not the other way round. I am a reserved person and I don't have too much people around me as friends but few of them.
Like you said, you travel a lot and also has a very tight schedule, how then do you strike a balance between your job and the home front?
It is God. I won`t talk about my family because that's what I so much cherish. I so much treasure my daughter and my husband. I treasure them a lot. I avoid anything that will affect them. I don't want to have problems with my family. I don't want to put them in the public eyes. I would rather keep it to myself. I don't talk about my family. They are strictly private.
Yes! My husband loves me and supports what I do. He encourages me in every way he can