2013 NEW YEAR SPEECH BY HIS EXCELLENCY, MR. PETER O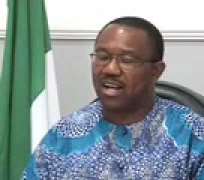 2013 NEW YEAR SPEECH BY HIS EXCELLENCY, MR. PETER OBI, CON, GOVERNOR OF ANAMBRA STATE, ON THE 1ST OF JANUARY, 2013.My Dear Ndi Anambra,
I address you today with a deep sense of gratitude to God and a profound appreciation of your support in 2012. We thank God for seeing all of us through various challenges last year. All our achievements which were recorded within the ambience of peace and political stability last year, were possible because you gave unflinching support to our adopted vision of achieving the Millennium Development Goals (MDGs) by 2015, being pursued through the Anambra Integrated Development Strategy (ANIDS).
I am confident that our administration will continue to enjoy your support and co-operation in 2013. Nonetheless, it is important to stress that fresh challenges await us this year. On the 18th of December 2012, I presented the 2013 Budget which is my 6th Budget based on our vision of achieving the Millennium Development Goals (MDGs) and our strategy of Anambra Integrated Development Strategy (ANIDS). Though we may not achieve 100 per cent of our goals, I assure you, as I have always done, that we shall continue, with your support, to put in 100 per cent effort.
Last year, we took some critical decisions and actions that were intended for the good of our state. This year, we will renew our commitment to achieve the Millennium Development Goals as follows:
1. SECURITY:
In spite of our commitment and effort, we realise that we cannot record meaningful achievements in an atmosphere of insecurity. Every attention will therefore be given to security of lives and property this year. To this end, we shall do everything to tackle criminality in the State, especially kidnapping. We shall therefore continue to support all security agencies by direct funding and provision of necessary equipment for their operations. It is interesting to note that as at this moment, we have provided the various security agencies with over 350 vehicles, including the 100 new ones we have just procured.
To further ensure adequate security of our communities, the Government has concluded arrangements to offer direct support to them by paying salaries of a chosen number of Vigilante groups and through the provision of patrol vehicles to all the communities in the State. We have ordered and paid for 300 vehicles for this purpose.
The State will procure state-of-the-art tracking equipment to assist security agencies to assist in tackling criminality of all kinds.

2. POVERTY ALLEVIATION
We will continue with our aggressive mission to provide access to wealth creation as a means of fighting poverty by opening up our rural, hard-to-reach communities with good roads. You may recall that availability of roads has facilitated the movement of persons and goods in our State. We shall therefore continue the reconstruction of existing roads, construction of new ones and completion of roads under construction some of which are: Amasea-Ebenebe-Awba-Ofemili road; Awka-Mgbakwu-Isuaniocha-Urum-Amanuke-Achala road; Enugwu-Ukwu-Nimo-Okacha road; Atani-Ozubulu road with three bridges that will help to reduce traffic into Onitsha.Nza Ozubulu-Afor Ukpor Road, connecting Isseke and Orlu; Uku Adazi-Ani-Nkwo Adazi-Enu Road as well as Umuchukwu road.
We have initiated and will initiate more projects which will go a long way in alleviating poverty through employment and creation of opportunities for our people. Consequently, we have initiated some projects which when completed, will employ our people, such as the Onitsha Hotel and Convention Centre, and the shopping Mall at Onitsha. We shall also start the Hotel projects at the Capital Territory as well as Agulu Lake.
Fortunately, industries that have successfully taken off in our State are all contributing to poverty-alleviation through employment of our people. We have concluded discussion with some other companies desirous of setting up shop here.
3. EDUCATION
As education has remained the best investment for the future of our society and children, we shall, in collaboration with the Church and vocational agencies, continue the aggressive rebuilding of our collapsed school infrastructure. We shall also ensure that our Universal Basic Education remains free and compulsory. As we are working towards the return of our schools to their past glory, we shall endeavour to train and re-train qualified teachers.
4. HEALTH
We shall intensify our partnership with the Church in the area of healthcare delivery. As part of our Millennium Development Goals Programme, we are executing over 30 buildings in different Missionary hospitals. We shall complete the projects and initiate more this year.
In line with our promise to secure the accreditation of three hospitals in the State, having achieved two, we shall work on the third one. We shall also continue our policy of offering regular financial support (grant-in-aid) to selected hospitals in the State.
We shall continue to pay attention to our new Teaching Hospital by providing more equipment and facilities to make it one of the best in the country. Special attention will also be paid to our General Hospitals to make all of them functional. I have given necessary directives to the new Commissioner for Health in this regard.
We shall also work closely with the communities to ensure that our interventions on healthcare delivery get to the people.

5. ENVIRONMENT
The environment shall be given due attention as we shall continue the aggressive clean-up of our major cities. We shall immediately re-locate to Onitsha to commence the immediate removal of all forms of shanties and stoppage of street trading. We appeal to those guilty of this menace to, on their own, remove their shanties and take their goods out of the streets before the commencement of the exercise.
We shall continue to work on on-going water projects and ensure effective take-off of completed ones. Special attention will be paid to Onitsha and Awka Water Schemes.
6. PARTNERSHIP
Today, we enjoy a good relationship with international development partners. We shall continue to strengthen this relationship, while exploring the possibility of new partnerships at local, national and global levels.
7. LOCAL GOVERNMENT ELECTION
In line with our resolve to conduct Local Government Election as soon as possible, we appeal to those who have instituted one court case or another to withdraw them in the interest of the State and democracy.
8. OTHER SECTORS
In line with the multi-sectoral nature of our vision and the strategy we have adopted for achieving it, every sector of our economy will receive attention in 2013. To this effect, we shall continue ongoing projects, while endeavouring to initiate new ones in Agriculture, Housing and Urban Development, Sports, among others.
My dear Ndi Anambra, I thank you again for your support to this administration. I urge us all to remain prayerful and patriotic. I assure you of our total commitment towards achieving our vision anchored on Anambra Integrated Development Strategy.
To our kith and kin who have returned from distant places to celebrate Christmas and the New Year with us, while I wish you fun-filled holidays and journey mercies as you return to your bases, I encourage you to think home always and situate some of your investments at home.
Thank you all and may God continue to bless Anambra State!