2013: Opposition Won't Make Us Lose Focus—Jonathan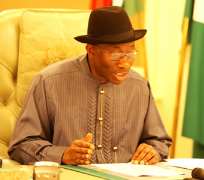 President  Goodluck  Jonathan, has said that his administration will not be discouraged by criticism of the opposition in 2013.
Jonathan, in a New Year message to Nigerians, made available to the media on Monday, said that his administration will ignore those who have taken it upon themselves to criticise every initiative of the government.
The President, who promised to build on the initiatives of his administration in 2012, said he remained resolutely committed to the rule of law, due process and fair play in all circumstances.
He added: 'Our democracy continues to grow, and the scope for human freedom continues to expand.
'It is an achievement that we will continue to build upon.'
Among areas the President said would continue to receive priority attention are flood control, roads development, employment generation and infrastructural development Jonathan said: 'I say it again, we are determined to continue to push forward. We will do more, not less. We will remain focused.
'For your part, dear compatriots, I urge that you all include in your new year resolutions a commitment to do more this year to support the implementation of the Federal Government's Agenda for National Transformation in every possible way. That is all I ask for.
'The task of making our dear nation a much better place for present and future generations cannot be left to government alone. Leaders and followers alike have critical roles to play in our march towards the fulfillment of our great national potentials.
'Let us all therefore resolve as we celebrate the new year to place the higher interests of national unity, peace, stability and progress above all other considerations and work harder in our particular fields of human endeavour to contribute more significantly to the attainment of our collective aspirations.'