SURE-P begins recruitment of 3,000 youths for community service in Ekiti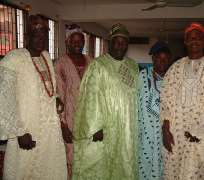 The Subsidy Reinvestment Programme (SURE-P) Implementation Committee in Ekiti State has commenced the process of recruiting the first 3,000 beneficiaries of its Community Services, Youths and Women Employment Scheme with another 2,000 to be recruited thereafter.
At the meeting held with community leaders and representatives of traditional rulers on Friday, in Ado-Ekiti, the State capital, community services to be rendered by the SURE-P beneficiaries were submitted by leaders of all towns and villages in the State.
Speaking during the meeting, Chairman of the State Implementation Committee, Rt. Hon. Femi Akinyemi said the committee would embark on another round of sensitisation exercise by visiting all towns and villages in the State during which the recruitment exercise would also go on.
He described the SURE-P as a programme specifically designed by the President Goodluck Jonathan-led federal government for the eradication of poverty, upliftment and development in Nigeria, adding that his committee was prepared to carry out the programme with zeal and vigour.
Akinyemi who urged interested graduates that are yet to register for the Graduate Internship Scheme (GIS) to do so by visiting http://www.wyesurep.gov.ng, added that company owners who are desirous of benefiting in the scheme by having beneficiaries of the scheme posted to their companies should also register by visiting the website.
He said interested companies will require Corporate Affairs Commission registration, Tax Clearance and VAT number to qualify for the programme.
"Apart from the GIS, there is also the Community Services, Youths and Women Employment Scheme under which 3,000 beneficiaries are being recruited now, while another 2,000 will be recruited thereafter," he said.
While noting that beneficiaries of the SURE-P programme would render services for which they would be paid, Akinyemi said; "The programme is however not a free wheel programme but a well designed and thoughtful programme, which is part of the transformation agenda of the administration of President Goodluck Jonathan.
"We therefore wish to seek the cooperation of our community leaders, especially the traditional rulers whenever we visit your community.
"No doubt, if we all play our roles well, we are confident that with this programme, we can begin to see Ekiti State where poverty will soon become a thing of the past because the major ideal of SURE-P is to tackle poverty and rescue our people from its bondage."
Photo caption:
Chairman of the Subsidy Reinvestment Programme (SURE-P) Implementation Committee in Ekiti State, Rt. Hon. Femi Akinyemi (middle) with representatives of traditional rulers in the State during the committee meeting with community leaders and traditional rulers on SURE-P in Ado-Ekiti last Friday