Global Shares Steady As U.S. Totters On Fiscal Cliff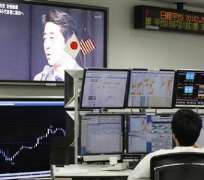 World shares were steady on Monday, but set to end the year up 13 percent, as U.S. politicians prepared for last-minute talks to avoid a fiscal crunch of spending cuts and tax hikes that could drag down the world economy in 2013.
In Washington, the two political parties are set to hold further talks later to try and avoid the $600 billion "fiscal cliff" kicking in from the start of January and which, if left unchecked, could wipe around 4 percent off U.S. GDP.
Senate Majority Leader Harry Reid said the Senate would reconvene at 11 a.m. Washington time (1600 GMT) to continue discussions, but warned on Sunday there were still significant differences between the two sides.
While hope has largely evaporated for any sort of broad deal on Monday, a lack of panic on markets reflected expectations that U.S. politicians will find a solution early in the New Year. U.S. stock futures, notably, were up.
"It is still expected that a deal be reached in early January. That will probably be greeted positively by markets, but it looks like it will be a very short-term fix rather than one that addresses the longer-term issues," said Bank of Tokyo-Mitsubishi currency analyst Lee Hardman.
"The Treasury have said they could hold out until February until they have to raise the debt ceiling, so going into next year we are set for more of the same kind of political uncertainty."
After a subdued day in Asia, where Japan's Nikkei as well as a number of other indexes had already shut for the year, limited year-end European trading left the MSCI all-world index steady at 336.97 ahead of the Wall Street open.
The pan-European FTSEurofirst 300 has risen roughly 13 percent this year, largely due to the European Central Bank's vow to tackle the region's debt crisis, and recovered from an early morning dip to end the year at 1,131.64.
With the world's major central banks expected to keep pumping stimulus into their economies at any sign of weakness, most economists forecast further steady gains in equities next year.
CLIFF VIEW
Euro zone bond markets were closed for the day on Monday after a rollercoaster year.
The debt of highly indebted Spain and Italy had looked set to implode in the summer but has been rallying hard since July when ECB President Mario Draghi's pledged to keep the euro afloat.
In currency markets, the U.S. dollar last stood at 86.13 yen, having retreated from Friday's high of 86.64 yen, which was the greenback's strongest level against the Japanese currency since August 2010.
As the year draws to a close, the dollar is up about 12 percent against the yen, putting it on track for its biggest percentage gain since 2005.
With a new Japanese government led by Prime Minister Shinzo Abe expected to pursue a policy mix of aggressive monetary easing and heavy fiscal spending to beat deflation, analysts see the yen staying under pressure in 2013.
The euro was down 0.16 percent on Monday at $1.3192 but is up 2 percent for the year. An agreement on the U.S. budget would be viewed as positive for riskier currencies such as the euro and Australian dollar, while a deadlock is deemed positive for the safe-haven and highly liquid dollar.
"The market seems to have almost taken into account the U.S. fiscal cliff discussions will go into the new year, and investors seem to have taken off any risk-on positions before the holiday period," said Michael Sneyd, FX strategist at BNP Paribas.
"If we come in on Wednesday and don't have a resolution I don't think we will see a big risk-off move."
OIL SLIPS
Commodities have been finding some recent support as economic data in key emerging economies such as China have started pointing to a gradual pick-up in the pace of growth in 2013.
Gold was $1,661 an ounce, up around 6 percent for the year and on track for a 12th consecutive year of gains on rock-bottom interest rates, concerns over the financial stability of the euro zone, and diversification into bullion by central banks. Copper also rose, shoring up this year's 5 percent gain.
Oil prices bucked the trend, however, slipping for a third consecutive session, with failure to reach a solution in U.S. budget talks seen likely to cause a serious slowdown in the global economy and a large drop in fuel consumption.
Brent crude was down 40 cents at $110.22 a barrel. It is up 2.8 percent and averaged more than $111.65 this year, its fourth successive year of annual rises and above the previous 2011 record of $110.91.
"Significant market moves are likely when the (U.S.) deal gets done - or if no deal is done before the year-end ... In any case, neither outcome is fully priced in," Jason Schenker, president of U.S. consultancy Prestige Economics.
REUTERS