Central African Rebels, Govt. To Hold Talks In Gabon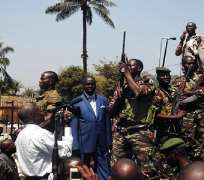 SAN FRANCISCO, December 30, (THEWILL) - Faced by a rapidly advancing rebel army determined to remove the government led by Francois Bozize from power, the government of the Central African Republic has agreed to hold talks with the Seleka rebel army to which it has lost much grounds after weeks of clashes.
According to a BBC report, the talks being brokered by the Economic Community of Central African States, ECCAS, will be held in Libreville, Gabon without any pre-conditions.
Meanwhile fighting between the rebels and government forces continued with latest reports saying the two forces clashed in the central town of Bambari on Friday raising fresh doubts about the government's ability to contain the rebel army who it is believed could achieve their objective of taking the capital, Bangui in days.
The meeting and the venue have been confirmed by ECCAS officials who spent two-days in Bangui trying to broker a peace deal between the warring forces.
Though no date has been fixed for the talks, the officials have however confirmed that it should start "within the next few days."
Meanwhile foreign diplomatic missions have been evacuating their embassy staff from the capital with the latest being the United States which followed the footsteps of the UN to pull out its non-essential staff.
France, the former colonial master and the US have however turned down an appeal by Bozize for help to halt the rebel advance. French Prime Minister Jean-Marc Ayrault reiterated on Friday that France would only intervene to protect its own nationals there.
The rebel Seleka - an alliance of three rebel groups – has accused Mr. Bozize of failing to honor a 2007 peace deal under which fighters who laid down their arms were meant to be paid and have therefore pledged to depose the president unless he negotiates with them.
In a public speech in Bangui on Thursday, Bozize asked Paris and Washington to help the country "to push back the rebels" whose insurrection he described as a plot against the Central African Republic and its people.