CALABAR CHILDREN CARNIVAL;26TH DEC 2012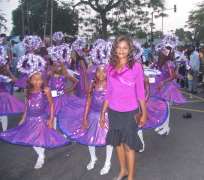 It was a packed fun that started at about 11 am in CALABAR ESUEDE STADIUM,so colorful ,fun filled and glamourous.
Children displayed lot,s of talent ,great artistic work and skill were invested to bring out the best in the kids that show cased and made the place fun to behold.
The kick off was held at ESUEDE STADUIM ,the contingents that lined miles went through IBB ROAD,across CALABAR ROAD unto MURTALA MUHAMMED HIGHWAY and parade through MARY SLESSOR went through Mariam and back to STADIUM at about 5.45.
The weather was Hot and traffic through the roads that was not closed were snail speed and some bottle neck.
The CALABAR CHILDREN CARNIVAL is an INNOVATION that should be emulated by other states,it brings out the culture of CALABAR people and showed them in good light.TOMMORROW will be the real ADULT CALABAR FUN FAIR and our LENS will bring you photos in colored