An Open Letter to Pope Benedict XVI: APPOINT AN INDIGENOUS MBAISE PRIEST BISHOP OF AHIARA DIOCESE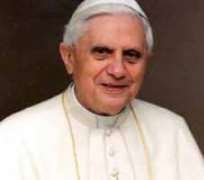 Apostolic Palace
00120 Vatican City State, EUROPE
E-mail: [email protected]

His Holiness Pope Benedict XVI,
AN APPEAL TO POPE BENEDICT XVI TO APPOINT AN INDIGENOUS MBAISE PRIEST AS BISHOP OF AHIARA DIOCESE, MBAISE – Emailed and An Open Letter
On December 7, 2012, you announced the appointment of Rev. Fr. Peter Okpalaeke of Awka Diocese in Anambra State as the Bishop-Elect of the Episcopal See of Ahiara Diocese, Mbaise. Your appointment, though belated, of the replacement of the beloved late Bishop Victor Adibe Chikwe of Ihitte Ezinihitte who passed way in September 2010, took the people of Mbaise by surprise and has set off quite a tumultuous avalanche of protestations and agitations in Mbaise, Nigeria and beyond.
It is my firm belief that while Your Holiness may not have all the facts about Mbaise, that you rely on the advice from Nigeria's Catholic representatives stationed there at the Vatican such as Cardinal Francis Arinze to make decisions that impacts on the Mbaise Community. If my belief is true, as I hope it is, it seems to me a miscarriage of justice has been done and a mockery made of the criteria for qualification as a Bishop stipulated in the Code of Cannon Law, Can. 378 §1. Therefore, your rationale for your decisions to appoint Rev. Okpalaeke Bishop-Elect of the Ahiara Diocese not only revealed how the Papacy views the importance, sacrifices, and contributions of the Mbaise community to the Catholic Church since 1911 to this day, but also in aggregation, disqualifies all known Mbaise Priests to even attain the position of the Bishop of the Episcopal See of the Ahiara Diocese, Mbaise.
Since one hindered years ago in 1913, the Mbaise Community en-mass embraced the Catholic Church and as the Vatican Statistics has it, Mbaise produces more priests per capita or per 1,000 populations than any other Diocese in Nigeria. It will just call to reason then, that by the same token, that the Mbaise Priestly Community would at least have more than one qualified priests, according to the specifications of the Code of Cannon Law, Can. 378 §1 to replace Bishop Chikwe and be appointed the next Bishop of Ahiara Diocese, Mbaise.
In view of the above, may I appeal to your Holiness to please reconsider your decision and in the effort of unifying all in the Community of the body of Christ, the Church, appoint an aboriginal indigenous Mbaise Priest as the next Bishop of Ahiara Diocese, Mbaise. Thank you.
Most Respectfully,
Dr. Onyema G. Nkwocha
Author: "Democracy in Nigeria," "The Republic of Biafra,"
and "Effective Leadership in Nigeria."