Uduaghan charges journalists to shun playing to the gallery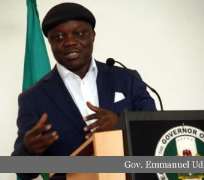 Gov. Emmanuel Uduaghan of Delta on Tuesday in Asaba charged journalists in the state to shun playing to the gallery no matter how attractive such an easy way out might appear.
Uduaghan gave the charge, while declaring open the Nigeria Union of Journalists (NUJ) Delta Council press week.
He said that it was painful when some sections of the press choose to assist few mischievous individuals or groups to wage unnecessary wars of attrition against perceived enemies in or outside the government.
"To my mind, the press has a huge responsibility to launch the impetus to make the progress of our country and particularly, in this circumstance, our dear Delta accelerate its speed to outrun the monster of underdevelopment.
"You have a duty, you have a responsibility, the governor, who was represented by his Deputy, Prof. Amos Utuama, said.
He said that as journalists, commitment and courage was needed to keep practising rigorous and vigorous journalism in the face of difficulty and even danger to honour their ethical principals when others were selling theirs.
He further said that the theme for the press week: "Journalism: Why Ethics matters'', was quite apt especially with the invasion of quacks into the profession.
He, therefore, advised that ethical decision making should be included in the list of competencies the journalist must build and embrace.
Similarly Mr Festus Keyamo, a human right lawyer, said that the major challenge before the journalist was maintaining, promoting and upholding the ethics of the profession.
Keyamo, a guest lecturer at the occasion, who spoke on the topic "How media can promote one-man, one-vote in Nigeria'', said that the role of the press in a democracy was not only ethical, but also constitutional.
He said that one-man, one-vote in other developed and developing countries were more of a slogan than a concept to address universal suffrage.
He, however, said that in Nigeria, the concept was not to address universal suffrage, but to address irregularities perpetrated during elections.
Keyamo said that another challenge faced by the press was being torn between reporting the truth and being patriotic not to heat up the polity.
He said that the clamour of journalists for political appointments, usually affected their professional ethics, and urge them to stop the trend of clamour for political appointments.
He also said that the practice of blackmail journalism should be discouraged amongst journalists.
He further said that the role of the press during elections and post elections could not be over emphasised as the reportage of journalists help to shape the judiciary during election petition. (NAN)