Akwa Ibom State Politics: The Race for 2015---The Strategy to Get Rid of Umana Okon Umana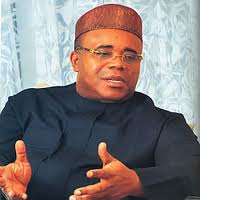 Umana Okon Umana, Akwa Ibom State SSG
The general assumption among Akwa Ibom State indigenes is that Godswill Akpabio is all out in support of his Secretary to the Government, Mr. Umana Okon Umana, as his successor in 2015. On the surface, this assumption seems plausible. But beneath the curtain, some let-me-think-this-over maneuverings are being carried out with indications pointing to the real posturing; Akpabio may not believe in Umana O. Umana as his successor. And reliable sources have confirmed that there is a strategy on the drawing board to stop Umana Okon Umana from contesting for the governorship of the state in 2015.

It is not clear if Umana has yet been contacted. But several sources close to Akpabio say he is working on removing Umana from Akwa Ibom State by submitting his name to Jonathan for a Federal appointment into his cabinet. The story has been confirmed that Jonathan is planning to reshuffle his cabinet in January and Akpabio, who is close to the presidency, is working with Jonathan to offer appointment to Umana. One of the positions in Jonathan's cabinet expected to be vacant is in a ministry that has something to do with technology; Akpabio wants Umana to occupy that position.

It is not quite clear why Akpabio's support for Umana is waning but several speculations abound to justify the reasons. One speculation is that Mr. Umana Okon Umana had confided in some of his supporters that if he wins the governorship, one of his immediate plans will be to deal with Akpabio and his brothers, such as Emem, Nsentip, Prince, and Ibanga, who have looted the treasury and squandered the people's money, as if the money are returns from their personal investments. When Umana's plan was leaked to Akpabio, probably by one of Umana's confidante or supporters, Akpabio held a meeting with his brothers for suggestions on how to counter Umana Okon Umana.

According to an insider, a suggestion came up that Akpabio should try to convince Umana by telling him that he (Umana) has put in all his expertise at a state level and in order to obtain a national recognition, Umana should move up by accepting a cabinet position at the federal level. Umana's departure from Akwa Ibom State will give Akpabio the opportunity to plant one of his surrogates who will not hesitate to use the office of the Chief Executive to do the biddings of Godswill Akpabio.

Another speculation on why Akpabio is no longer sure of Umana is the doubt whether Umana Okon Umana's credibility can withstand the campaign force of a formidable opponent, such as Senators Akpan Udoedehe and Udo Udoma, if they so decides on entering the race. Sources say the recent attack on Umana Okon Umana over the Internet has convinced Akpabio that Umana may not have what it takes to win the office of the governor. According to a source, "Umana's credibility is not strong at all. Besides, he is not that endearing to the people of Akwa Ibom. His elusive personality portrays him as someone who cannot and should not be trusted."

Then there is this speculation; Akpabio, after frequent public and private statements, during which he had sworn that by the time he leaves the office, Ibibio will never have the cloud in Akwa Ibom State, cannot afford to go back on his words by allowing Ibibio indigene in the person of Umana Okon Umana to regain power. Akpabio is afraid of what his mind tells him would be the reaction of the Ibibio as a revenge against him.

The question people are asking is who Akpabio will front as a candidate if Umana is catapulted out of the political scene. Outwardly, there are indications that Akpabio would prefer a candidate of Eket stock, though no one knows for sure, because Akpabio is known as a man with flip-flop thoughts. However, the frequent siting of a gentleman by the name of Okpoulum (not sure of the spelling) Ette in the company of Akpabio has given speculations that he may be the one Akpabio will endorse as his successor. Mr. Ette is said to be an indigene of either Ibeno or Eastern Obolo. Outside Akwa Ibom State, many people do not know the man.

It is worth mentioning here that among possible emerging candidates from Eket is Ambassador Assam Ekanem Assam, who is now serving in Russia. Sources say he too is interested in running. Umana Okon Umana has always considered Assam and Nsima Ekere as threats to his emergence. When Umana engineered the posting of Assam E. Assam out of the country as an Ambassador and the ouster of Nsima Ekere as the Deputy Governor, he thought he got it made where he would just sail through the nomination of his party, unopposed. Recent events have indicated that he was wrong, dead wrong. The real opposition, no matter how subtle it may seem, is now coming from where Mr. Umana Okon Umana never envisioned; his boss.

Written by
Ikpafak Thompson Essien
Portland, Oregon,

__._,_.___


Disclaimer:

"The views/contents expressed in this article are the sole responsibility of the author(s) and do not necessarily reflect those of The Nigerian Voice. The Nigerian Voice will not be responsible or liable for any inaccurate or incorrect statements contained in this article."
Articles by Ikpafak Thompson Essien