Book Harm, JTF Clash Leaves DPO, 13 Others Dead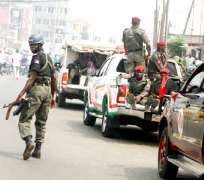 SAN FRANCISCO, December 10, (THEWILL) - A bloody clash between the combined military Joint Task Force (JTF) and the Book Harm sect, Monday morning in Potiskum, Yobe State, claimed the lives of a Divisional Police Officer (DPO), Mr. Mohammed Garba and 13 members of the sect.
An attempt on the palace of the Emir of Fola, Alhaji Mohammed Ideas Ibn Abali, was however repelled by the JTF men. The Emir had, few months ago, survived an attack by a suicide bomber who had targeted him for elimination during Friday jumat prayers around his palace. JTF spokesman, Lieutenant Eli Lazarus, confirmed the incident while speaking with journalists in Damaturu, the state capital.
"We repelled the attack and succeeded in killing 13 of the suspects. Three dead bodies of the suspects were recovered on the streets of Potiskum by the JTF, while some of the terrorists succeeded in carrying away 10 of the other dead bodies of their colleagues and escaped with them through the bush," he explained.
The Boko Haram members, who stormed the town with superior ammunitions, had initially given the JTF members who had laid ambush for them a tough time. Deploring improvised explosive devices (IEDs) as they went on rampage in the town, the bandits attacked a commercial bank as well as telecommunication masts of telecom giants,MTN, Airtel and Etisalat, before setting the local police station in the town on fire.
Luck however ran against them as 13 members of the gang were later shot dead in the bloody encounter. The bandits, despite their loss, nonetheless, succeeded in spoiling the day for the JTF as the DPO, Garba, was killed in the shoot-out.