PETITION OF FRAUD, BREACH OF NATIONAL SECURITY AND RIDICULING OF NIGERIA'S IMAGE AGAINST AMBASSADOR FELIX OBORO IN VENEZUELA AND COMPLICITY OF THE MINISTRY OF FOREIGN AFFAIRS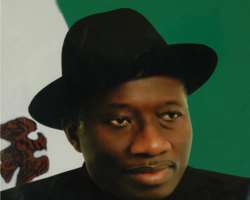 Nigeria President, Dr Goodluck Jonathan
His Excellency
Dr. Goodluck Ebele Jonathan
President and Command-in-Chief
Armed Forces of the Federal Republic of Nigeria
Presidential Villa, Aso Rock
Federal Capital, Abuja.
Your Excellency and Dear Sir,
PETITION OF FRAUD, BREACH OF NATIONAL SECURITY AND RIDICULING OF NIGERIA'S IMAGE AGAINST AMBASSADOR FELIX OBORO IN VENEZUELA AND COMPLICITY OF THE MINISTRY OF FOREIGN AFFAIRS
With humility and utmost regard, we have pleasure to introduce to you, the Committee for the Protection of Peoples Mandate (CPPM) which is a foremost human and civil rights organization that has been in the forefront of the struggle for good governance in the life of the Nigerian State.
Sir, we are very much aware of your administration's avowed commitment to the fight against corruption and the promotion of the rule of law in all aspects of our national life in which we are partners with your government in this regard.
It is in realization of this fact and in keying into this national ethos as espoused by your administration, that the Committee for the Protection of Peoples Mandate (CPPM) wish to bring to your attention for urgent investigations and actions recent media reports of allegations of financial impropriety and breach of the security of the Nigeria Embassy in Venezuela and by extension National security against Ambassador Felix Oboro by one Dr. Olarotimi Ajayi.
After going through the text of the media conference addressed by Dr. Olarotimi Ajayi and the evidences adduced, the committee for the Protection of Peoples Mandate (CPPM) was convinced beyond all reasonable doubt and resolved to petition your office to investigate this matter with a view to recalling Ambassador Felix Oboro immediately for prosecution by the anti-graft agencies and as well dismiss from office the Honorable Minister of Foreign Affairs, Ambassador Olusegun Ashiru and the Permanent Secretary of the Ministry of Foreign Affairs for complicity in fraud, undiplomatic behavior and dereliction of duty
The allegations of fraud and breach of the country's security by Ambassador Felix Oboro in Venezuela are too weighty and thus deserves presidential intervention in view of the criminal complicity of the ministry of Foreign Affairs whose Foreign service inspectorate (FSI) investigated Ambassador Oboro in the past for financial impropriety and breach of national security, found him guilty but refused to mete out necessary sanctions and as well because of the incalculable damage it has done to Nigeria's image which your administration is trying relentlessly to correct.
Sir, as you know, one of our slogans in the human right community is that "injustice to one, is injustice to all" and thus we are being compelled to forward this petition out of our patriotic duty to fatherland which is supposed to override all interest. Our investigations also revealed that Dr. Olarotimi Ajayi, a career diplomat, diligent, honest and patriotic in his service to Nigeria was hounded and humiliated out of Venezuela by Ambassador Felix Oboro for being upright and refusing to wine and dine in the pool of the ambassador's corruption system.
The fundamental human and economic rights of Dr. Olarotimi Ajayi was assaulted with impunity by Ambassador Felix Oboro who has rubbished and continues to dent the image of Nigeria by his unpatriotic and corrupt service in Venezuela which must be stopped immediately with his recall and prosecution. The complicity of the ministry of Foreign Affairs in this show of shame is despicable and stands condemned.
Sir, we urge you to use your good office to call for reports of past investigations into the atrocities of Ambassador Felix Oboro who is everything unrepresentative of the Nigerian people and as well investigate him for compromising the nation's security in Venezuela which has turned Nigerians and Nigeria into butt of jokes and ridicule in Caracas and in the diplomatic circle.
Sir, we pray that the Almighty will give you the wisdom and grace to look into this matter as well as the assault of the fundamental human and economic rights of a dutiful, loyal and patriotic career diplomat, Dr. Olarotimi Ajayi so that he can get justice having faithfully served his fatherland.
Please find attached with this petition, a copy of page 46 of This Day Newspaper, Wednesday December 5 2012 edition which is one of the several media houses that reported this shame of a country against Ambassador Felix Oboro.
Please accept most wholesome, out esteemed regards,
Thanks
Yours Faithfully,
Nelson Ekujumi
Executive Chairman
Contact details:
Committee for the Protection of Peoples Mandate (CPPM)
26a Adesina Street, Off Obafemi Awolowo Way, Ikeja, Lagos
E-mail: [email protected]