Ribadu Re-appears, Weeps For Gani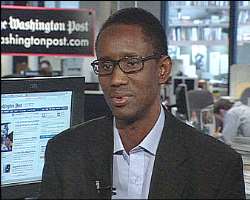 By Idowu Sowunmi
In a move that caught many unawares, former chairman of the Economic and Financial Crimes Commission (EFCC), Mallam Nuhu Ribadu, reappeared in the country yesterday and visited the residence of the late human rights activist, Chief Gani Fawehinmi.
Ribadu, who is being tried in absentia by the Code of Conduct Tribunal for allegedly violating the Code of Conduct provision on the declaration of assets by public officers, had fled the country last year claiming threat to his life.
Ribadu was removed in controversial circumstances on November 30, 2008 by the Federal Government, following President Umaru Musa Yar'Adua's approval of his nomination for a course at the National Institute for Policy and Strategic Studies (NIPSS), Kuru, Plateau State.
He was replaced by Assistant Commissioner of Police, Ibrahim Lamorde, as acting chairman of the EFCC.
He was later demoted from the rank of Assistant Inspector-General of Police to Deputy Commissioner of Police, and later sacked for "indiscipline, insubordination and absence from duty".
The ex-EFCC chair then went on self-exile, prompting Nigerian security agencies to place him under watch.
He is currently in court challenging most of the actions taken against him by the government and the police authorities.
Gani had condemned the removal of Ribadu, saying that the government had subverted the anti-corruption crusade embarked upon by the EFCC under the leadership of Ribadu.
Yesterday, Ribadu arrived at Gani's residence at about 6pm. Dressed in white babanriga, his trademark, he went straight into the residence of late legal luminary to meet with the members of the deceased family.
He was overwhelmed with emotion. He could not hold back his tears as he broke down while discussing with the members of the family. After chatting with the family for about 25 minutes, he insisted that he would want to see Gani's remains in order to pay his last respects.
He was taken to Ikeja mortuary in company with Lagos-based lawyer, Femi Falana, and other few members of the family, and left for Abuja immediately to catch his flight back to the United States of America.
In the condolence register, Ribadu described Gani as father and wrote Oxford, UK as his address.
"I have lost a father, a friend and a mentor, but I'm grateful to God for the chance to have had a very inspiring relationship with Chief. He helped to shape my life. He made me to believe in the truth and trust, and has courage to stand by those ideas. May his kind and gentle soul rest in peace. God will be kind to Gani because he was a kind and good man," he said.
Ribadu was one of the six police officers nominated and sent on senior executive course at NIPSS, Kuru.
While on course, he was demoted to the rank of DCP along with 139 officers, who were allegedly wrongfully promoted. He was also accused of instituting legal proceedings against the Inspector-General of Police, AG and the Police Service Commission, at a Federal High Court in Lagos, without proper authority from government.
He was also said to have disregarded his posting order and refused to proceed on transfer when he was posted to zone 5, Benin, as deputy commissioner of police in charge of administration, since 21 November, contrary to sections 349, 348 and 347 of the Police Act.
|
Article source