FRSC Convicts 176 For Road Offences In Rivers – Commander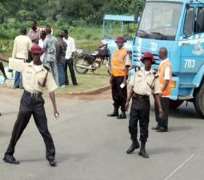 The Federal Road Safety Commission (FRSC) said it convicted 176 motorists for various road offences in Rivers.
The sector commander in the state, Dr Kayode Olagunju, said this in an interview with the News Agency of Nigeria (NAN) in Port Harcourt on on Monday.
Olagunju said that the convicts were part of the 189 motorists arrested and prosecuted by the four road traffic mobile courts set up by the state's chief judge.
He said that courts operated in Port Harcourt, Isiokpo, in Ikwerre Government Area, Eleme, in Eleme Local Government Area and Ahoada, in Ahoada Local Government Area.
`One hundred and eighty-nine (189) drivers were actually prosecuted out of which 13 were discharged and acquitted while 176 were found guilty of the offences ranging from over-loading , seat-belt violation, use of phones while driving, dangerous driving, overtaking dangerously or in a place not safe, mechanically defective vehicles; so they are all embracing.
"So far, we have 176 convictions and also, with fines ranging between N1,000 and N30, 000 and jail terms of between one month and six months and they are all given options of fine which means, only those who cannot afford to pay the fine will actually go to prison."
Olagunju said that the mobile courts were permanent structures designed to ensure orderliness on the road by prosecuting traffic violators during and after the yuletide period.
He warned drivers to avoid alcohol while driving, especially at the yuletide, adding that the mobile courts had been equipped with the required gadgets for alcohol detection.
"We've acquired alcolysers and the breathalyzers to test those we suspect to be driving under the influence of alcohol and the patrol men will also be on the road to arrest other traffic violators.
"I also want to use this opportunity to warn road users that only the lucky violators are apprehended by the road marshals or other law enforcement agents.
"The unlucky ones are arrested by road crises."
The safety commander cautioned motorists against reckless driving during the yuletide period, adding that the commission would not hesitate to arrest and prosecute any road offender. (NAN)