Good Beginning Christians, But May We Not Be Bad Finishers!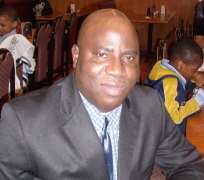 The week I gave my life openly to My Lord and Savior Jesus Christ at the then newly-constructed Christian Worship Center at the University of Lagos in spring 1987, Pastor Kris Okotie was the homilist. Later that week, Pastor Ayo Oritshejafor came with his late wife to preach and Brother Yemi Okuboyejo, who the Lord used to bring me to the True Way, took me to Dr Tunji Braithwaite, in central Lagos who had given his life to Our Lord and Savior few months before my conversion. Later that year, Pastor Segun Oshinaga searched for me at the defunct Concord Newspapers and took me to Akilo, Ikeja to the Household of God Ministry where Pastor Okotie and his first wife, Teena began their ministry. Later that month, Bishop Mike Okonkwo of The Redeemed Evangelical Mission (TREM), with other men and women of God were at hand to officially ordain Pastor Okotie as a pastor. Teena and Kris autographed my first Bible, and the conversion of Okotie in Nigeria was a blow to satanic music. He was an inspiration to millions of Christians in Nigeria and beyond. My Christian walk since then has been lonely and tiresome but it was expected. In spite of my numerous falls, He is always there to bring me up but make no mistake about it; the Christian journey is littered with stress, strains and burdens. It was in keeping my eyes on the ultimate prize that spurred me to enroll at the World of Faith Bible College in Cotonou Benin in 1997 owned by Bishop David Oyedepo. From Abacha's Gulag in Nigeria, freedom in 1998 to the United States, deliverance and several temptations, the Christian journey is full of hurly—burly and Satanic attacks but this exhortation keeps me going "He who endures till the end shall be saved," so the Giver of the Walk told us. This is why I am surprised at what is happening in Nigerian Christendom these days. A Christian is not supposed to sin and boast about it. Living a life unbefitting of Christlikeness is akin to gloating over un-Godliness. Christians are pilgrims here on earth, which means we are birds of passage. Christians hold temporary residency status on earth but our permanent citizenship is not here on earth, but heaven. In our private and public lives, we are supposed to demonstrate temperance, humility, probity, self-abnegation and corrupt-free lifestyle. But there is a lie from the pit of hell right now in many Nigerian churches and across the world that all economic prosperity and material wealth are from God Almighty. Following in the heel of this demonic teaching is eternal security of salvation irrespective of one's lifestyle. False miracles and supernatural occurrences are the third deceptions allied to the earlier two. Because of the level of poverty and sclerotic corruption in Nigeria, and in many areas of the world, churches are springing up everywhere. Like MacDonald's eatery chains, churches are now franchises with drug pushers, thieves, shady characters, prostitutes, rapists, pedophiles, kidnappers, money launderers, homosexuals and lesbians calling themselves pastors. I was told the last time I was in Nigeria in 2011 that all a person needs to open a branch of any of the so-called mega-churches is to make sure you remit percentages of church offerings to the area branch and pronto, you are in business. Everywhere I went; it was all about money, money, money and money! I have had my fair share of religious racketeering before I left Nigeria but I never knew the situation has degenerated to such an abysmal eyesore the last time and the first time over a decade that I was in Nigeria. One needs not look further in today's Nigeria when looking for a neo-Sodom and Gomorrah. One begins to wonder how many of these so-called pastors were genuinely called by God Almighty to become shepherds. No Christian, no matter the earthly title he/she parades will enter heaven while steeped in moral depravity. An adulterous pastor who impregnates a female parishioner, who fathers numerous children from choristers and a serial monogamist, is deluding himself he truly is a man of God. Those church members who stay put in that man's church are doomed, if they do not look for another church where holiness, righteousness and the undiluted truth of God's words are preached. There is nothing like "eternal security of salvation;" it is a Christian meme popularized by the so-called prosperity-preaching televangelists which began here in America. It is un-scriptural and un-Biblical. A born-again Christian living in sin like fornication, sexual immorality, pride, disobedience, moral corruption, greed, adultery and sin of the flesh will not enter heaven. Salvation can be lost and that is why Apostle Paul warned us to "work out our salvation with fear and trembling." Can the Holy Spirit depart from a born-again Christian who has taken sinning as a way of life? Absolutely yes! The Holy Spirit departed from King Saul, King David pleaded with God Almighty not to remove the Holy Spirit from him after an adulterous relationship and murder. The fire of the Holy Spirit can be quenched with continuous sinning. The Holy Spirit has departed from many of the so-called men and women of God in Nigeria without them knowing it. Large congregations, fleet of cars, houses, villas, and private jets are not the signs to look for when looking for a Biblically-based, a Holy Spirit-filled and righteous church congregation. Many of them are doing their thing; Our Lord Jesus Christ is not a part of them. This maddening craziness to acquire private jets among Christian pastors in Nigeria is corroding the church. This covetous selfish pride of "My private jet is bigger than yours" attitude among prosperity preachers in Nigeria is not of God. Our Lord Jesus Christ commanded us to preach the Gospel-the Good News-but how does owning a seven-seated private jet assist in preaching the gospel? It is cheaper, faster and easier to travel by private jet around the world but why not purchase a jumbo jet that can carry as many members of your congregation to crusades abroad instead of a private jet that sits only you and your family? How does owing a private jet help the needy in the church when Our Lord Jesus Christ commanded us to care for the sick, shelter the homeless, feed the hungry, visit the lonely, mend the broken-hearted, stand up for justice, condemn those who are oppressing the helpless and stand up for the defenseless? What does a private jet do to help the cause of the fatherless, alleviate the poverty of the widows and assist orphans in many of the local churches in Nigeria? There is not a so-called man or woman of God who is genuinely serving the revealed will of God and His higher purpose in Nigeria and yet is still committed to seeing a man who cheats, steals public money, commits adultery with another man's wife, oppresses the poor, tells lies in public and gives no damn about how he acquires his wealth continues as president. There is nowhere in the Holy Bible that Our Lord Jesus Christ told us that we must ensure that we install anyone in power who calls himself/herself a Christian but does not live a life worthy of the Savior. In fact, Jesus Christ said His kingdom is not of this world so why are some Christian leaders playing politics with their souls and the souls of their congregations? Any Christian leader-forget about all these fanciful titles- who refuses to condemn injustice, stand for the helpless and is timid to tell political leaders to rule with humility and fear of God has turned his stomach into a god and will ultimately perish. Miracles and supernatural occurrences are no signs of the Holy Spirit but holiness, righteousness and obedience to God. Satan and his demons are capable of performing signs, miracles and wonders. In fact, the Bible warns Christians to be wary of such demonically-inspired miracles in these end times and the rapidity at which they are now taking place in Nigeria and around the world is frightening indeed. As the Israelites ate Manna in the wilderness and died, many Christians of today will receive the miracles of Satan pulled by his human harbingers masquerading as pastors and end up in the pit of hell. Today's Laodicean Christians in Nigeria and around the world will be gob smacked to their chagrin on that Day that they have abandoned the faith; that, although they started very well but because of filthy lucre, trappings of worldly pleasures, love of money, fleeting earthly riches and corrosive wealth will end up with Satan. It's time to wake up and return to the Truth, which is the Word of God. That Word is Our Lord Jesus Christ who bought us with His Precious Blood and will not be content with being supplanted by earthly wealth and temporary prosperity and deceptive miracles in our lives. Those who made anything-money, pride, power, prestige, fame, sin of the flesh, covetousness, and the rest- other than the Lord Jesus Christ as Number One in their lives will not make it to His Kingdom. He said so and I believe Him.
Dr Fayemiwo, author, publisher and CEO, Alternative Lifestyle Communication, DBA is an adjunct lecturer in African History & Media Studies at the City Colleges of Chicago in Illinois, USA.
Disclaimer:

"The views/contents expressed in this article are the sole responsibility of

Moshood Fayemiwo

and do not necessarily reflect those of The Nigerian Voice. The Nigerian Voice will not be responsible or liable for any inaccurate or incorrect statements contained in this article."