Probe Ohakim Now, Group Tasks Okorocha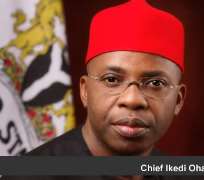 Non Governmental Organization, Joint Action Group has called on Gov. Rochas Okorocha to probe his predecessor, Chief Ikedi Ohakim over what it described as the senseless looting of the state by the former governor.
In a communique presented by Rev. Mrs. Ngozi Amadi at the end of its meeting in Owerri, the group frowned at the state government's delay in arresting and probing Ohakim.
That we  frown at government's delay in arresting and probing Ohakim and his PDP cohorts over the senseless looting of public funds even when we have paid  dearly on our part in the course of chasing away that government of moth and pest. That our members who died and those that may have sustained one degree of injury or the other cannot suffer in vain, the group lamented.
It further called for the immediate arrest of Ohakim and his cohorts who siphoned huge public funds through their white elephant projects which only existed in the internet and bill boards such as Oak Refinery, Imo Wonder Lake, Nwaorie Dredging, Wonder City and diversion of substantial sum of N18.5billion bond for the for the projects linked to Millennium Development Goals (MDGs), 3 classroom block that cost N50million each and others too numerous to mention.
The group further gave a 21 days ultimatum to Okorocha to arrest and probe the former governor, insisting that it would resort to indefinite strike action that could ground the economy of the state if the ultimatum expires.
It also threatened to use other lawful means to ensure Ohakim faces the full wrath of the law.