Akingbola Flees To UK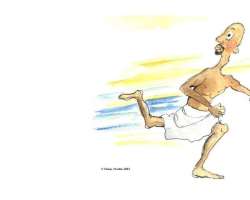 One of the sacked chief executives of the five bailed-out banks has fled abroad, in spite of earlier claims by the Economic and Financial Crimes Commission (EFCC) that there was no escape route for the ousted bank chiefs.
"Well, one is outside the country and the others are with us…but they are speculating that one escaped abroad," EFCC chairman Farida Waziri told newsmen in Lagos yesterday when asked how many sacked bank chiefs were arrested so far.
She did not name the fleeing former executive, but an EFCC official who did not want to be named said former Managing Director of Intercontinental Bank Erastus Akingbola has escaped abroad.
Another source in Lagos said Akingbola fled to the United Kingdom on Monday, three days after his sack and a day before the EFCC grabbed his counterparts in Finbank, Union Bank and Afribank.
Akingbola on Tuesday got a court permission to challenge his sack by the Central Bank of Nigeria (CBN). His lawyer could not be reached for comments yesterday because he was reported to be in the UK to meet with Akingbola.
The CBN on Tuesday published a list of over 200 individuals and companies owing non-performing loans totaling over N746 billion to the five banks. Intercontinental gave out the biggest loans.
"It was a shock to me. I never realised that any bank anywhere in the world will give such magnitude of money without any collateral," Mrs. Waziri said while fielding questions from journalists at the Murtala Mohammed Airport in Lagos.
On Wednesday, many of the big names accused of colleting the loans faulted the CBN figures, with some of them saying they had defrayed most of the credits.
But Mrs. Waziri said, "Our position on this is that they have to pay whatever they are claiming they owe first and after that we can sit down and reconcile the accounts. But I can assure you that we will not take any dispute on figures as an excuse from anybody. They don't have to wait for us to start effecting their arrests before they begin to perform."
EFCC on Wednesday issued a seven-day ultimatum to the debtors to repay or face arrest, prosecution and confiscation of their property.
Asked how the commission would ensure that those payments were made given the huge amounts and the personalities involved, the chairman said: "Well they have no choice, they have to comply… We are working with other agencies, the Nigeria Police, Securities and Exchange Commission, NDIC—all hands are on deck, there is no way that we will not accomplish this task of recovering this money."
She added: "The other security agencies are right inside the banks now, they are working. By next week I will give update."
Three sacked bank chiefs—Mr. Sebastin Adigwe of Afribank, Mr. Okey Nwosu of Finbank and Mr. Barth Ebong of Union Bank—and nine managing directors of their subsidiaries have been in custody of the EFCC in Lagos since Tuesday.
Spokesman for the commission Femi Babafemi told Daily Trust the EFCC has got a court order authorising it to keep all of them in custody pending when it concluded investigations and arrested others still at large.
Under the law, a suspect is not allowed to be detained for more than 48 hours without opportunity to engage counsel or post bail. "We would not keep them without abiding by the law and to this end we have obtained a court order," he said.
Former managing director of Oceanic Bank Mrs. Cecilia Ibru and seven managing directors of some companies are still wanted by the EFCC.
CBN last Friday injected N400 billion into the five ailing banks and sacked their chief executives to stem what it said was a looming systemic distress in the industry. The apex bank said the banks were collapsing owing to unrecovered credit facilities amounting to N1.4 trillion, constitution 40 per cent of the entire credit of the 24 commercial banks.
Some of the high-profile debtors on the CBN list are Mr. Femi Otedola, Alhaji Aliko Dangote, Prof Ndi Okereke-Onyiuke, Oba Otudeko, Barrister Jimoh Ibrahim, Mr. Fola Adeola, Chief Lulu Briggs, Mr. Aig-Imokhuede, Dr. Peter Odili, Alhaji Ahmadu Chanchangi and Alhaji Arisekola Alao. There are also the Bauchi State Judiciary, Rahamaniyya Oil, Imad oil, power projects contractor Rockson and IRS Airlines.
|
Article source