After a weekend with mosquitoes, Cecilia Ibru collapses in court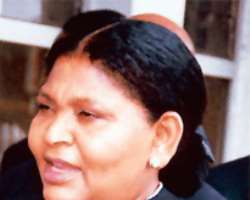 Cecilia Ibru, collapsed during court proceedings

The former Chief Executive Officer of Oceanic International Bank Plc, Mrs. Cecilia Ibru, collapsed Monday in court after battling mosquitoes in the custody of the Economic and Financial Crimes Commission (EFCC) where she spent last weekend.
Ibru had surrendered herself to the EFCC last Wednesday at the commission's Lagos office and rather than release her after interrogation, she was detained throughout the weekend.
The former Oceanic Bank CEO slept on a mattress in a four-wall room in EFCC detention camp.
Ibru's lawyer told THISDAY last night that because of lack of power and the fact that EFCC had no diesel for its generator, at 7pm most days the former Oceanic boss' room would normally be infested with mosquitoes.
Although Ibru was with her doctor, Major-General Gabriel Ovadje (rtd), in detention, the doctor was, however, restricted to the waiting area downstairs, a heartbeat away from the detention room.
Efforts by the doctor to get the EFCC officials to make diesel available for the generator yielded no fruit as they were said to have insisted they had no such brief.
The former Oceanic CEO who has been married to Olorogun Michael Ibru for close to 45 years is used to comfort.
Ibru, who all along appeared stressed up, suddenly collapsed in the dock after 18 of the 25-count charge had been read to her.
The development, which caused panic in the court, stalled proceedings for about 10 minutes before her doctor, who had accompanied her to the court, attended to her and certified her fit to continue with the trial.
EFCC could not be reached last night to react to the lack of power at their detention centre on Awolowo Road, Ikoyi.