China-Backed Payment Processor To Accelerate Global Expansion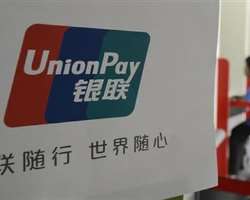 China's state-backed electronic payment services giant, China UnionPay, launched an international arm tasked with speeding its expansion overseas, heating up competition with rivals such as Visa Inc (V.N) and Mastercard Inc (MA.N).
The move underscores UnionPay's growing global ambitions, and follows a World Trade Organisation (WTO) ruling that China discriminates against foreign card companies by favoring UnionPay in the home market.
UnionPay, China's dominant payment card supplier, is looking to expand the number of shops and outlets overseas that will accept its cards and also grow the number of partner banks issuing UnionPay-branded cards. The move would increase its business, assist inbound and outbound travelers and is also aimed at promoting the use of the yuan as a global currency.
"UnionPay's internationalism provides convenience to Chinese residents and companies going overseas. Also it provides a new payment option for overseas residents and companies," Liu Shiyu, deputy governor of the People's Bank of China, said at the opening ceremony of UnionPay's unit.
Over 70 million Chinese traveled overseas in 2011, up 22 percent from a year earlier, according to government data.
UnionPay has already formed partnerships with groups such as HSBC Holdings Plc (HSBA.L) and National Australia Bank Ltd (NAB.AX) to promote its cards in other countries.
The tie-ups have intensified competition in the international market between UnionPay and global players such as Visa and MasterCard, who have been lobbying China to open its domestic bank card market to foreigners.
The WTO ruled in July that UnionPay had a monopoly on yuan payment cards issued and used in China, but rejected a U.S. claim that the firm was an "across-the-board monopoly supplier" for all transactions denominated in yuan.
China said it wouldn't appeal the decision and promised to push forward with reform and opening up in the electronic payments market.
Since its first overseas expansion in 2004, UnionPay has moved into 135 countries and regions, partnering with 8 million overseas merchants, and has issued 15 million UnionPay-branded cards in about 30 countries and regions.
The newly established unit, UnionPay International Co, already counts 60 domestic and foreign banks as its members.
REUTERS