100,000 Policemen Illegally Posted--Onovo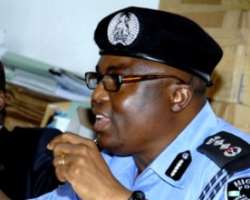 By Misbahu Bashir
Close to 100,000 policemen are at the moment illegally serving as guards to individuals who are not entitled to such privileges, Inspector General of Police Ogbonna Onovo said yesterday in Abuja.
The police boss, who said this at a news conference, ordered all such policemen working with individuals to withdraw and report back to their police formations within seven days or risk dismissal.
The police force has a total of 377,000 men and officers. Onovo said investigation into the duties of police officers in the country revealed that a total of 100,000 policemen—about one-third of the entire police force—were assigned to individuals as orderlies, escorts and guards. "Most of the police escorts and orderlies were assigned illegally," he said.
The Federal Executive Council in March directed the withdrawal of police personnel attached to Nigerians who were not entitled to such privileges.
Political and public office holders entitled to special police security include the President, Vice President, Chief Justice of Nigeria, governors, deputy governors, Secretary to the Government of the Federation and Head of Service of the Federation.
Others are ministers, president of the Court of Appeal, justices of the Supreme Court, judges of the Court of Appeal, chief judge and grand khadi of a state, president of the Customary Court of Appeal, Chairman of a Local Government/Area Council, Vice Chairman of a Local Government/Area Council and Chairman of the Independent Corrupt Practices Commission (ICPC).
Also entitled to police guards are President of the Senate, Deputy President of the Senate, Speaker of the House of Representatives, Deputy Speaker of the House of Representatives, Speakers of State Houses of Assembly and Deputy Speakers of State Houses of Assembly.
"In line with this provision, all persons not approved to have policemen are hereby given seven days to release the police personnel attached to them, and to make alternative arrangements. Such police personnel are also given seven days from today to report back to their commanders in readiness for training. Heads of commands and formations whose personnel are involved are hereby warned to compile and forward the list of their returning personnel latest August 13, 2009. By this date, any policeman or woman who continues in such duty will be dismissed forthwith and delisted," Onovo said.
He said policemen attached to companies, banks and other establishments as guards must not be found doing works other than what they have been assigned for.
He said a special police squad will be formed to monitor places including highways, airports and offices to arrest any police officer acting as escort or orderly to individual not approved by the government.
Onovo also announced that he would take over all assignments given to the former IGP by the government, in addition to his official duties.
|
Article source