THE 69TH ORDINARY SESSION OF THE ECOWAS COUNCIL OF MINISTERS HOLDS FROM 30 NOVEMBER TO 2 DECEMBER IN ABIDJAN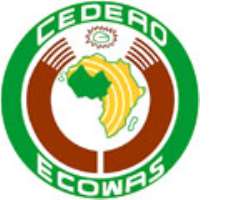 THE 69TH ORDINARY SESSION OF THE ECOWAS COUNCIL OF MINISTERS HOLDS FROM 30 NOVEMBER TO 2 DECEMBER IN ABIDJAN
ABUJA, Nigeria, November 30, 2012/African Press Organization (APO)/ -- The 69th Ordinary Session of the ECOWAS Council of Ministers will hold from Friday 30 November to Sunday 2 December 2012 in Abidjan, Cote d'Ivoire, to consider important issues relating to the smooth running of the organization and make recommendations to the Heads of State and Government.
The Ministers will consider the Final Report of the 12th meeting of the ECOWAS Administration and Finance Committee (AFC), that reviewed the 2013 draft budget of the organization, prepared with a pragmatic and realistic orientation based on a ratio of 37:63% of Administrative to Programme expenditure, in compliance with the directive of the Authority of Heads of State and Government.
Presenting the draft budget on behalf of the President of the Commission, H.E. Kadré Désiré Ouédraogo, during this meeting held from 14 to 18 November 2012 in Abuja, Nigeria, the Commissioner for Administration and Finance, Mrs. Khadi Ramatu Saccoh, underscored the significant increase in the 2013 draft budget over the 2012 budget.
She said the increase was necessary to accommodate the envisaged recruitment at the Commission as approved by Council, as well as resources required for peace-keeping missions in Guinea Bissau and Mali, two Member States where the organization is fully involved to ensure that the political situation returns to normal.
Mrs. Saccoh concluded the address by stating that the 2013 draft budget was prepared «in a spirit of reform, peace, security and good governance».
Council will also consider the 2012 Interim Reports of the President of the Commission and the Financial Controller, as well as the Tasks Assigned by the 68th Ordinary Session, held in Abidjan in June 2012.
Other important issues, such as the two-year extension of the 2008-2012 Regional Action Plan on the Prevention of Drug Abuse, Illicit Drug Trafficking and Organized Crime in West Africa, are equally on the agenda of the meeting.
The Council of Ministers, which is composed of Ministers of Finance and Ministers of Integration of ECOWAS Member States, is chaired by the Minister for Foreign Affairs of Cote d'Ivoire, whose country is the current chair of the organization. It is responsible for ensuring the smooth functioning and development of the Community, and make recommendations to the Heads of State and Government.