GENERAL OJUKWU,S ONE YEAR MEMORY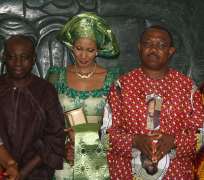 Gov. Peter Obi says that the memory of Dim Chukwuemeka Odumegwu- Ojukwu, like those of the greatest in history, such as Napoleon Bonaparte, King Louis xiv, Gen. MacArthur, Alexander the Great, King Philip of Macedon, and many others, would remain ever conscious in the memory of men because they lived for something worth remembering. Obi said this yesterday at the commemoration of one year death of Ojukwu, which was preceded by a holy mass at St Michael Catholic Church, Nnewi, yesterday. He also called on Igbos globally to pray for the repose of the soul of Ojukwu.
Gov. Obi took the opportunity of the event to call on Nigerians to always tell themselves the truth as Ojukwu did that enabled that truth to permeate all facets of his life. In his words: " You know that Ojukwu's motto was 'to thy self, be truthful', with this he lived the life of truthfulness and that enabled him to tell the truth to Nigeria. For us to have a better and prosperous Nigeria, we must be truthful to us and confront the problems that face us in the spirit of truthfulness."
Obi who once again thanked President Goodluck Jonathan for the honour he did to Ojukwu both in life and in death, said that the people and Government of Anambra State would continue to be inspired by the life Ojukwu lived to work for the common good. "Yesterday, I visited St Charles Secondary School, the Convent of Immaculate Heart of Mary Sisters, Nkpor; Schools of Medical Lab at Umuoji; Queen of the Rosary Secondary School, Onitsha; Christ the King Secondary School, Onitsha; as well as inspected Innoson Motors, Nnewi , where we have an order for security and other vehicles worth close to 2 Billion Naira.Today, before coming here I visited Maria Regina Secondary School, Nnewi, St Paul's Secondary School, Utuh, and Our Lady of Lourdes' Hospital in Ihiala where I distributed cheques of 100 Million Naira for various projects as well as Justice Ikpeazu Stadium at Onitsha, where I talked to our contingent to 2012 Sports Festival. When the flood menace was on, I almost had to swim to save the lives of our people. In fact, I celebrated Ojukwu's birthday at the camps for the flood victims. I was inspired to do all this because were Ojukwu alive, his commitment would always be how to mitigate the suffering of the people", Obi submitted.
Concluding, Obi advised Igbos to work closely among themselves since more, according to him, would be achieved in the spirit of unity.
In his own remarks, Ojukwu's wife, HE Bianca Odumegwu-Ojukwu thanked all Nigerians for the honour they have continued to heap on Ojukwu. Asked how she felt about the absence of Owelle Rochas Okorocha, who was always noticeably absent in recent functions revolving around Ojukwu and who is also an APGA Governor, she said he might have had other functions more important than the memory of his party leader.
In his remarks, Ojukwu's son, Emeka Ojukwu thanked Nigerians who have continued to stand by them, especially Gov. Obi who has continued unflinchingly to show love and support for Ojukwu family.