EAGLETS BEAT MALI 2-0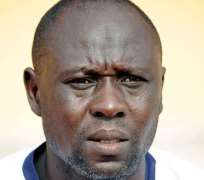 Eaglets coach Manu Garba
The Golden Eaglets on Sunday defeated the Junior Eagles of Mali 2-0 in the first leg final qualifier for 2013 Africa U-17 Junior Championship at the UJ Esuene Stadium in Calabar, Cross River State .
The team, coached by Manu Garba, took the lead in the 26th minute through a perfectly headed cross by defender Wilfred Ndidi.
The goal boosted the confidence of the team as they took control of the match to end the first half 1-0.
The Eaglets came back better in the second half but poor finishing robbed them of goals. However, Alhasssan Ibrahim made it two goals in the 83rd minute.
Garba said the team were unlucky, adding that they would work on their scoring ability ahead of the return leg fixture in Mali .
'We will re-strategise before the second leg in Bamako ,' he said.
Mali coach Sanni Coulibaly said his players played well.
'They lost to ill-luck, I wish Nigeria good luck,' he said through an interpreter.
The second leg fixture comes up in two weeks in Bamako .
Former Super Eagles captain, Nwankwo Kanu, who witnessed the game, said the Eaglets were a bunch of talented players, adding that they would improve with time.
'I believe in them and I know what the coach is capable of doing with the team,' Kanu said.