MY HATERS WILL SOON BLAME THEMSELVES FOR CRITICISING MY SONGS-Tonto Dike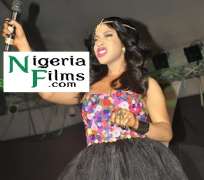 It's no longer news that the two singles, Hi and Itz ova' released by Tonto a couple of weeks back is trailed with controversies. For those who don't know, Tonto is making effort to shoot the musical video of her two songs and she is not discouraged by those who have scorned her.

Tonto who is making her debut appearance tomorrow at an award night said when the musical video is released people who have critised her would definitely have themselves to blame later.

''When my song came out, they blamed me for singing without listening, then they listened and then blamed the producer, But give them time they will blame themselves for ever criticizing the cute songs. Both songs were the most popular songs by an actor/actress. They also have the records of being the most downloaded songs released my any music artist in West Africa (My guess is right,'' Tonto charged.

Reacting to a the rumour that Kas abandoned her for another business, Tonto said Kas was never part of this project but it won't be a bad idea having a future working relationship together.

In a swift dimension, the movie icon, Tonto is also putting all effort to release her much-awaited movie titled, My Life, My Damage, where she co produced with co actress, Uche Jombo.

''First Cinema movie, that's true. It's also my first I Executive Produced and also Co-produced. Working with Uche Jumbo was a great experience as expected. It's one of my most fulfilling moments working on,'' she said.
Click the link below to go to...
E-X-C-L-U-S-I-V-E** Breaking News: Veteran Actor, Pete Eneh Passes On After Losing Leg To Amputation
Genevieve, Aneke Twins, Fred Amata, Others Colour Ibinabo's Inauguration Party (Pictures)
EXPOSED: Real Reason Why Pasuma, K1 Fell-Out** Omo Banke, K1 Allegedly Slept With Pasuma's Daughter, Wasilat
After Wardrobe Malfunction, Uche Jombo Releases Stunning Pictures
After Rumoured Marriage Crash With Hubby, Jennifer Eliogu Gives Reasons For Nollywood Marriages Break-Ups
Pictures From. Annie Macaulay's Birthday Party With 2Face
My Fiancé Left Me Because Her Family Think Actresses Don't Have Morals-–Maryam Booth, Kannywood Star