AUDITED ACCOUNTS: FISCAL RESPONSIBILITY COMMISSION CHIDES NIMASA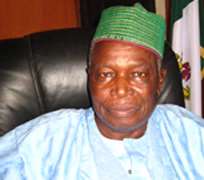 Chairman, Fiscal Responsibility Commission, Alhaji Aliyu Yelwa
The Fiscal Responsibility Commission has accused the Nigeria Maritime Administration and Safety Agency of breaching provisions of the Fiscal Responsibility Act by failing to provide its audited accounts from 2009 to date.
The Chairman of the commission, Alhaji Aliyu Yelwa, expressed the displeasure during a meeting with top management staff of NIMASA, led by the Chief Executive, Mr. Patrick Akpobolokemi, in Abuja on Wednesday.
He said the previous management of NIMASA never responded to several letters written to it to make available its audited accounts as well as budgets for scrutiny.
Yelwa said, 'We have been trying to talk to NIMASA through wireless, through letters, but it would appear that we were not succeeding in understanding each other.
'So, we thought the best thing to do is to call them; let's talk face to face, lets learn from them, let them learn from us what this commission is all about.
'Our role as regards similar organisations like yours is to ensure that there is effective planning, reporting and final judgment.'
A Commissioner of the commission, Chief Silvanus Mordi, went into specifics about the charges against NIMASA.
He said there was a portion of the law that talked about budgetary planning for corporations, demanding that they prepare their Medium Term Expenditure Framework for three years.
They are also to prepare their annual budgets based on that Medium Term Expenditure Framework.
Mordi further explained that in preparing their budgets, the corporations were expected to make allowance for the payment of 80 per cent of their operating surplus into the Consolidated Revenue Account of the Federal Government.
He said, 'In terms of accountability, the corporations are to prepare their audited accounts every year, not later than three months after the end of their financial year; and within 30 days of the audited account to pay 80 per cent of their operating surplus into the Consolidated Revenue Fund of the federation.