Yar`dua`s Amnesty Group Disown Repentant Militant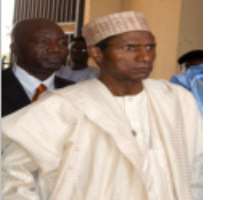 De Norsemen Kclub of Nigeria Inc. views with disquiet statements credited to a certain Mr. Justice Nworgu (a.k.a J.J.) of which same was broadcast on the Nigerian Television Authority (NTA) 1 p.m. news on Friday August 21st and published also in the Friday, August 21st Edition of Thisday Newspaper, to the effect that certain items of arms and ammunition which he surrendered to the presidential committee on amnesty in the Niger Delta, was done on behalf of the Norsemen Kclub of Nigeria Inc.
We find this claim spurious, disturbing and perhaps an attempt to misguide and mislead the general public, as De Norsmen Kclub of Nigeria is not a militant organization nor is the said Mr. Justice Nworgu a member of the said organization. Membership of De Norsemen Kclub is open to all Nigerian graduates without regards to religious, ethnic or social backgrounds. Intending members must show proof of a good university degree or polytechnic diploma. Members and intending members must show that they do not have a criminal record and good and credible means of livelihood.
Mr. Justice Nworgu's claim to be a member of the Norsemen Kclub is not only fallacious but criminal and mischievous. Available records show that Mr. Nworgu was at a time a student of the Rivers State Polytechnic, Bori. He abandoned his course of study and become a thug for sundry politicians in his Omuma Local Government Area of Rivers State. Mr. Nworgu could not be a member of the Norsemen Kclub as he obviously does not have a core requirement for membership; a graduate degree or diploma, as he is a drop-out. It is on record that he has been arrested by the Rivers State police command several times for gun-running, illegal possession of fire arms and attempted murder. Until his emergence to make his latest spurious claim, Mr. Justice Nworgu was an inmate of the Port Harcourt prisons for 3 years. He has been in and out of the prisons in the last six years. The police and prison authorities have their records to this effect.
Before now, Mr. Justice Nworgu was widely reported to have accused three politicians in his Omuma axis as having financed him to procure guns for various political assignments. It is also on record that Mr. Nworgu had led his armed gang to invade and loot the residence of a member of the House of Representatives, Hon. George ford Nwosu, who he had earlier accused of been one of his financiers and political godfather. We are aware that Mr. Nworgu's sudden twist to incriminate the De Norsemen Kclub in the nefarious activities of himself and his godfathers, is not unconnected to the fact that they are afraid of the rising political profile of some our members in Rivers State.
We find it strange that the promoters of this falsehood could have availed themselves of Mr. Nworgu's criminal records, but chose not to do so.
We wish to restate here that De Norsemen Kclub of Nigeria Inc. is an organization of young Nigerian professionals and patriots motivated to establishing respect for human dignity and sanctity of human life; encourage labor and intellectual industry; preserve our environment from degradation and promotion of National and International Peace; we uphold God as our Foundation and abhor in its totality all, ethnic, religious, racial and status discrimination.

The main objective of De Norsemen Klub is to struggle for the oppressed and the weak, by espousing corrective and protective measures for the defense of the masses against social injustice, victimization, and deprivation. We fight against sacrilege, vandalism, smuggling, hoarding, trespass, touting, conspiracy, pilfering, terrorism, and insubordination, extortion, impropriety, kidnapping, piracy, intrusion, hijacking, quackery, bunkering, banditry and political extremism. The fundamental mission is to assemble men to develop leadership, promote brotherhood, and provide service to humanity. Over the years we have been known to promote brotherhood of man, encourage good governance, offered bursaries and scholarship to students in various fields of study in higher institutions, established communities' development projects and enlightenment programs for the masses on their civic responsibilities as well as protect the rights of the less-privileged.
For the avoidance of doubts, De Norsemen Kclub of Nigeria was founded in 1985 by three young Nigerians, and is registered with the Corporate Affairs Commission (CAC) as a social charity. De Norsemen Kclub has chapters in all the states of Nigeria as well in the United Kingdom (UK); United State of America (USA); Germany; Norway; South Africa, Netherlands just to mention but a few.

BOND OHUCHE
NATIONAL PRESIDENT
|
Article source