FEDERAL GOVT AND ANAMBRA STATE TO CUSHION THE EFFECT OF FLOOD VICTIMS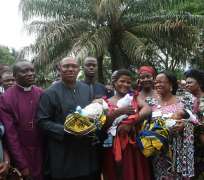 The Millennium Development Goals office, Abuja is to scale up it conditional cash transfer scheme to cushion the effect of flooding on the people. The Senior Special Assistant to the President on MDGs, Dr. Mrs. Precious Gbeneol announced this while presenting relief materials worth over seven million naira to internally displaced persons at Father Joseph Memorial High School, resettlement camp, Aguleri. Some of the materials donated include three hundred bags of rice, two hundred cartoons of tomatoes and twenty five cartoons of milk among others.
Dr. Mrs. Gbeneol who said the materials were to alleviate the burden of those displaced by the flood and expressed concern that the success recorded in poverty reduction, improvement in the health of children and mothers, access to water, sanitation and environmental sustainability may be impeded if proactive measures were not taken.
She said that Govenror Obi's administration had sustained prompt payment of counterpart fund for all the MDGs projects in the State and Local Government areas assuring that the 2012 Conditional Grants Scheme funds to the State will also be utilized for proper interventions in flood affected areas.
Governor Peter Obi in his speech thanked President Goodluck Jonathan and the MDGs office for the intervention and commitment to ameliorating the suffering of the displaced persons. He explained than necessary commitments and other measures are in place to sustain prudent and transparent distribution of the relief materials, while soliciting for more interventions.
The Anglican Bishop of Mbamili Diocese, Right Reverend Henry Okeke thanked the SSA to the President for personally coming to identify with the victims. He noted that Governor Obi and his team have provided more than enough food and other daily needs to the 23 camps across the State.
Mrs. Josephine Ejimofor from Enugwu Otu Aguleri who delivered triplets in the camp said the State Government had been taking care of the children since they were delivered and expressed gratitude to Governor Obi for touching their lives.
Other displaced persons who spoke, Mr. Chukwuerike Nnaso and Mrs. Adenyi Maneke said the Governor had restored hope in their lives.
Later at a Town Hall meeting at Otuocha the Headquarters of Anambra East Governor Peter Obi assured that Government will commence aggressive rebuilding of communities submerged by flood, immediately the water recedes.
CAPTION FOR THE PICTURE
Mrs. Josephine Ejimofor 2nd right), who was delivered of triplets, Maduabuchukwu, Chukwuka and Eberechukwu at Umueri displaced Flood Victims' camp, carrying one of the triplets; Gov. Obi (2nd right), carrying one of the triplets, SSA, MDG, Dr. Precious Gbeneol (1st left), carrying one of the triplets and Anglican Bishop of Mbamili, Bishop Heney Okeke (1st left)