Dickens Sanomi Foundation Donate N100m Relief Materials To Flood Victims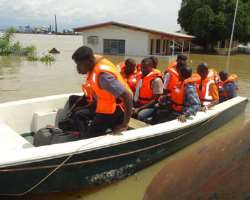 A Non-Government Organisation, Dickens Sanomi Foundation in a statement announced a comprehensive funding package worth N100 million to flood victims in Delta and Bayelsa States, as part of its intervention programme to cushion the effects of the devastating flood on the people.
The package according to the statement includes the establishment of eight camps, with functional bore-hole and toilets; evacuation of 12,300 trapped victims from Nine Local Government Areas of the two states; and provision of relief materials, such as foods, beddings, clothing, toiletries and medicals, as well as security.
Presenting the relief materials to the various camps, after the evacuation of 12,300 victims, the Co-ordinator of the Sanomi Foundation and leader of a 15-man Rescue Operation Team, Mr. Daniel Idonor disclosed that the team has been on ground in the affected communities for Nine days.
"On arrival the team embarked on an on-the-spot assessment tour of the affected communities in Ughelli North and South, Isoko north and South, Patani, and Burutu Local Government Areas of Delta State; as well as Kolokuma/Opokuma, Yenegoa and Ogbia local Government Areas of Bayelsa State," he said.
Also speaking, the Secretary of the Team, Hon. Great A Sanomi, listed the communities so far covered by the intervention programme, where evacuation of Internally Displaced Persons (IDPs) have been successful, as Ewhu, Okparabe and Arhavwarien, Orere, Ogoda, Ogwrugwu, Eruare, Ohanhen, Omosiomo, Okamate, Onota, and 13 communities in Ewhu-Island, as well as parts of Olomu and Oghievwen areas in Delta.
The Bayelsa Team led by Mr Micheal Onyenadjo, said his group also covered Azikoro, Akenpai, Akenfa, Igbogene, Ovom, and Agudama-Epie among others in Yenegoa local government Area; and, Isampou and Kaiama, headquarters of Kolokuma/Opokuma Local Government Area; as well as parts of Ogbia Local Government Area.
"In our operations, we provided four 500-seater engine boat and five 18-seater speed boats at the Arhavwrien waterside. For the first four days; these boats were used to evacuate IDPs from all the riverine communities. We also engaged the services of Rukevwe Transport Company in Ughelli, which conveyed people from the waterside to Ewhu, Okwagbe, Ughelli and Warri; all at no cost to the people".
"The Dickens Sanomi Foundation has also carried out major rehabilitation of the existing weak infrastructure, including replacement of doors, windows and ceilings of the dilapidated class rooms in the various Camps".
"After five days of intensive rescue operations, the foundation is pleased to inform you that it has successfully evacuated total of 12,300 displaced children and adults, as recorded by our team from eight kingdoms and 42 communities, while fives camps have been set up. We are also providing support services in four government camps, including Okwagbe, Usiephrun, Orere, Arhavwrien, Ewhu, and Ughelli, where victims from patani and many Ijaw communities are being kept".
"We have also established a warehouse in Ughelli, from where we have been distributing generator sets, food, medicals, cloths, beddings, toiletries and other relief materials from, in the five days".
Receiving the items on behalf of the Delta State Emergency Management Agency, Mrs Akangbon Ebiere Tosan who is the Camp Commandant for Ughelli North and Patani Local Government Areas, described the donation as the single largest intervention by a private organisation, and urged other public spirited groups to assist the victims, as government alone cannot bear the burden of the various camps.
At Ewhu, the camp commandant and camping official in Ughelli South, Bishop Jonathan Arhavwrien, commended Dickens Sanomi Foundation, saying that the Foundation has assisted the Ewhu camp with relief materials much more than the local, state and federal governments.
The first batch of relief materials distributed separately to Delta and Bayelsa states include 5,000 mattresses, 5,000 blankets and Mosquitoes nets, 10, 000 tubers of yam, 1,000 bags of quality rice, 1,000 bags of Garri, 500 bags of beans, 500 (20-liter Groundnut and palm oil), 100 bags of onions, 200 cartons of tomatoes, 100 cartons of maggi, 50 cows, 20 generator sets, 50 bags of salt, 50 bags of pepper, and cash donations to various camps.