Halliburton: British Lawyer swindles Nigerians of $30m - Abacha's cousin on the run over $20m aircraft purchase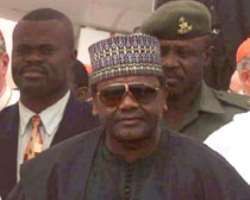 British lawyer (names with held) who is the arrow-head of the $190million Halliburton scandal, enriched himself fraudulently to the tune of $30million of the money without the knowledge of his collaborators, Sunday Tribune can report.
According to sources close to the federal government's 5-man panel, set up to investigate the bribery scandal, the arrow-head, a British Lawyer, who was said to have gotten a court order to prevent the British government from extraditing him out of the UK, deceived both the Nigerian beneficiaries of the scandal and his employers, by using fake names and secret codes to siphon some of the monies to himself under false pretence.
It was learnt that his tricks were exposed when a conservative calculation of the amount disbursed to the Nigerian beneficiaries was made and it was discovered that about $30million was missing.
One of the sources said, "We later tracked the huge amount to some secret accounts which were later traced to The British lawyer".
Sunday Tribune further learnt that late General Sani Abacha's cousin who is currently on the run , was also involved in the purchase of refurbished aircraft for the Nigeria College of Aviation Technology after he collected over $20million for the purchase of a new one.
The aircraft, said to be over 10 years old and which was to be grounded, was brought in from France by the late general's cousin after conniving with some persons in the Aviation industry.