The allure of Nollywood's own beach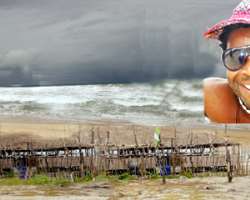 As the tourism potential of Nollywood, Nigeria's multi-billion naira movie industry, continues to grow, the stakeholders are gradually shifting the focus beyond just themselves. EMMANUEL ONYECHE, who visited one of such attractions (Nollywood Beach) writes that its Burn Fire Night every Friday is something to savour LESS than two weeks ago, notable filmmaker, Chico Ejiro, officially opened his one-stop joint and, (guess the name he gave it) Nollywood Plantation Bar.
The Delta State-born moviemaker says the place will cater exclusively to stars, celebrities, patrons and select friends of the industry.
But his joint is not the first place that would bear the Nollywood appellation. Preceding it by two years is the Nollywood Beach located in the Alpha Beach town of Owode in Lekki Peninsula, along the Lekki/Epe Expressway.
In operation since 2008, it is run by movie actor, producer and director, Preye Precious Oliver, who produced the first anti-corruption movie for the Economic and Financial Crimes Commission during the era of Malam Nuhu Ribadu that ended in 2008.
That movie, titled, Classical Fraud, had prolific actor, Clem Ohameze, playing the lead role with other actors and actresses such as Dakore Egbuson, Florence Onuma and Oliver himself starring.
Oliver says his vision tallies with that of Ejiro to the extent that it will cater also for the interests of stars and celebrities. "But it is bigger. We are taking entertainment to the next level. Eventually, it will turn out a place where all the actors in Africa will come to hang out. We will sell entertainment here the way guys in the Western world have done. I am like a bomb in the Nigerian entertainment industry and that bomb will soon explode," he says.
Ohameze describes Oliver's dream as long overdue. "It is a beautiful vision. Whenever I am in Lagos, I go there. People like us should have a place where we can relax and where people can access us," he says.
Another popular Nollywood star, Paul Obazele, who affectionately refers to Oliver as 'Olive Tree,' says the dream of up-and-coming stars like Oliver will revolutionise the industry and boost the tourism potential of the country.
But the scintillating experience at Nollywood Beach is its Burn Fire Night every Friday - an event that has become popular with many expatriates from Canada, South Africa and elsewhere, who come to nearby Chevron oil company on different missions.
These expatriates join their Nigerian friends and members of the 'Fat Boys' club in Chevron and every Friday, come rain or shine, they run for 30 minutes from Chevron through the seaside and gather at Nollywood Beach, where they sit around the fire, eat grilled fish, chat with friends, drink their beer and enjoy the fresh cool breeze from the Atlantic Ocean.
Oliver, who in 2004/2005 produced the movie, The Producer, where he exposed the antics of movie producers who trade sex for movie roles, provides entertainment for his guests with music from the strings of his guitar as they relax and enjoy the cool evening breeze.
One expatriate who refers to himself simply as Kevin, says, "I enjoy myself out here and there is no time I am in Nigeria that I do not come here. The fish is very well prepared and when I take it and enjoy the cool breeze from the sea, I go back to my lodgings and I sleep very well."
Joan, another expatriate, says, "I have two weeks to spend in Nigeria and I like to come here every Friday to catch fun. From the time we begin the race to the time we gather at NWB, I enjoy myself. The race gives me assurance that I am fit, the fish is good and there are so many friends in Nigeria to chat with. I like it."
The Burn Fire Night lasts three hours (6 pm to 9 pm) and no one is permitted to drink to stupor.
"It is a rule that everyone understands that no one takes more than two bottles of beer during the three hours that the Burn Fire Night lasts. We will not permit any one to drink and kill himself. That is not the kind of money that we are looking for," Oliver says.
NWB, on two and half plots of land, is not just close to Chevron but it is also in close proximity to the American International School and the road leading to it is presently being renovated by Chevron. It is an all wood and bamboo affair as these are the materials used in its construction.
"It should be like that because we are in Africa and the wood reflects the wood in the word - Nollywood," Oliver, who officially provides entertainment for some members of staff of Chevron, says.
It has a gigantic bar at its centre and a stage for shows built to take up to 5,000 people. The stage becomes extremely useful during NWB's Easter Fanfare – a crowd pulling show of music, dances and other forms of entertainment – that takes place every Easter.
But there are still challenges of security as Ohameze points out. "Once they get to know that that is where Nollywood stars congregate, miscreants can infiltrate the place and spoil the show. The last time I went there, I went with my personal security but it is not all the time that you go with your wife for example or some friends to unwind that you go with security personnel. So, the issue of security is key," he says.
Again, the beach fronts close to NWB are noisy and more of markets, where all sorts of things are sold, rather than being beach fronts where people can relax.
They are also dirty and sometimes littered with human and animal faeces.
But Oliver assures that policemen from nearby Victoria Island and Jakande Police Station are always on patrol around NWB.
"Alpha Beach and in fact NWB has very good security. In addition to the presence of the policemen, they have their own vigilante and they do not mess around with anybody. Since I have been here, I have not recorded any issue pertaining to security," he says.
He adds, "For those who have turned their own beaches to market, we will correct that by the example of excellence we show. By the time they see what we are doing here, no one will tell them to adjust," he says.