Singer Portable Belittles Another Top Celebrities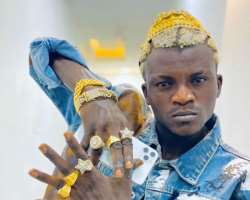 In a recent video by a popular Nigeria street singer, Portable, he confidently undermines the greatness of Nigeria's biggest international fraudster, Hushpuppi.
In Portable's display and utterances he said with money he spent on wears, he is finer than Hushpuppi because he invest so much on quality clothes.
He also stated that he makes his money legally unlike the big international fraudster, Hushpuppi.
He said: "I do not make money by scamming. I don't buy my cloth by scamming. My money is legit. I para pass Hushpuppi. Na every time I de kom Zara"